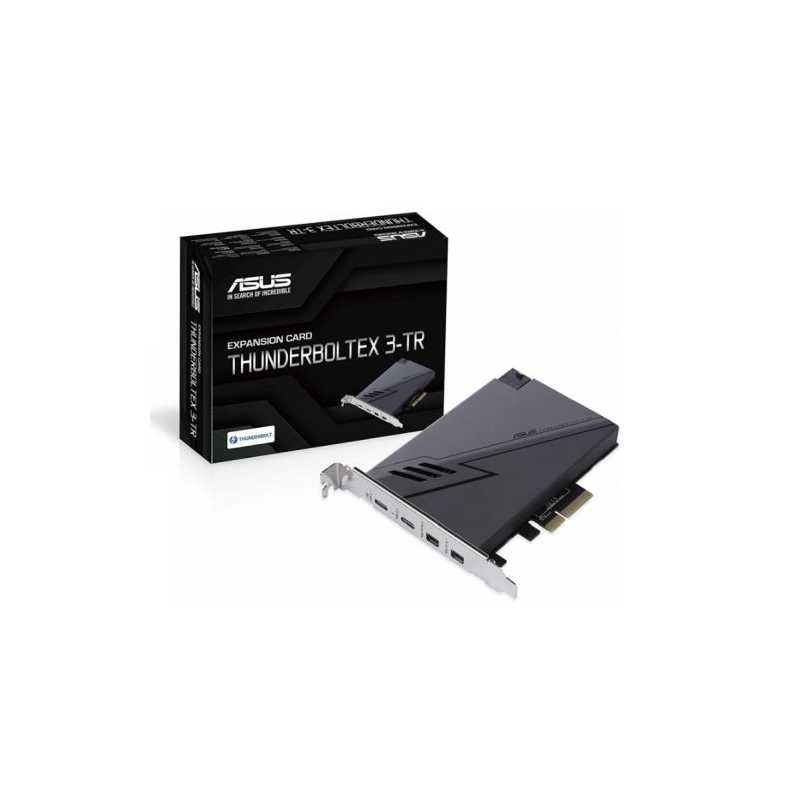  
Asus ThunderboltEX 3-TR Card, PCIe 3.0 x4, 2 x Thunderbolt 3 USB-C, 2 x Mini DisplayPort In, USB 2.0 header, 14-1 Thunderbolt He
Tax included
Delivered within 1-2 days

ASUS ThunderboltEX 3-TR expansion card, dual Thunderbolt™ 3 ports (USB Type-C®), DisplayPort 1.4, PCIe® 3.0 x4 interface
Intel®-certified Thunderbolt™ 3 add-on card
40 Gbps bidirectional bandwidth for superfast data transfers and video output
Dual Thunderbolt™ 3 ports (USB Type-C®), with support for up to six Thunderbolt devices in a daisy chain
DisplayPort™ 1.4 for 8K Ultra HD support
Experience blistering speeds and any-way-up connectivity

Asus ThunderboltEX 3-TR is a Thunderbolt 3 add-on card that delivers 40 Gbps bi-directional bandwidth and DisplayPort 1.4 support. It's able to support up to six Thunderbolt-enabled devices in a daisy-chain configuration, and its USB Type-C port enables up to 100-watt charging for laptops.
Data sheet
Warranty

3 Years

Package Type

Retail

Dimensions

11.77 x 18.05 cm

Type

Thunderbolt Card

Ports

2 x Thunderbolt 3 USB Type-C ports2 x mini DisplayPort IN ports1 x 6-pin PCIe power for quick charge function1 x USB 2.0 header1 x 14-1 pin Thunderbolt header

Transfer Rate(s)

Up to 40Gbps for Thunderbolt devices

Host Interface(s)

PCIe 3.0 x4

Compatability

Asus Intel 400 series, AMD B550 series and later models with 14-1 pin Thunderbolt header

#Hide#Host Interface

PCI Express
No customer reviews for the moment.