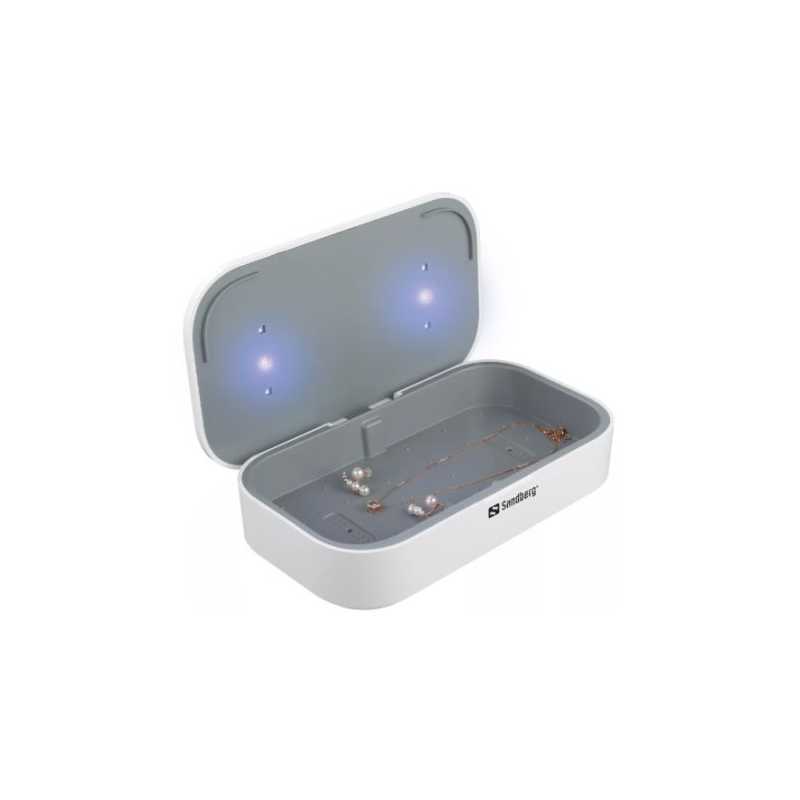  
Sandberg (470-31) USB UV Sterilizer with Built-in 10W Qi Compatible Wireless Charger, 360° UV Disinfection, Kills up to 99% Bac

UV Sterilizer Wireless 10W USB
Fast 360° UV-Light disinfection.
Kills up to 99% of all bacteria and virus.
Built in wireless charger 10 W.
Input voltage: USB 5V/2A, 9V/2A
USB-C input
USB-A charge output, 5V/1A
UV wave length: 265-280 nm
Sterilization time, 2 modes:
Quick mode: 1 minute
Deep Clean: 5 minutes
Qi-compatible 10/7.5/5W wireless charger
Outside dimensions : 210 x 120 x 48 mm
Inside dimensions: 180 x 100 x 22 mm
Net weight: 380g
The Sandberg UV Wireless 10W USB is your new form of defence against viruses and bacteria on mobile phones, earbuds, car keys, spectacles, jewellery, etc. The construction of the UV light source in the box ensures 360° coverage of the devices by effective UV light. You can also charge your mobile phone wirelessly using the built-in Qi-compatible wireless charger in the lid. The safety switch in the lid will switch off the UV light if the box is unintentionally opened during use. You can choose between 2 different disinfection programmes: 1 minute (fast) or 5 minutes (deep). The box also features an optional fragrance aroma function.
Data sheet
Warranty

5 Years

Package Type

Retail

Additional Features

Fast 360° UV-Light disinfectionKills up to 99% of all bacteria and virusesOptional fragrance aroma functionSee Overview for more details

Package Contents

Sandberg UV sterilizerUSB cable USB-A to USB-C, 0.8 metersDropper for fragranceQuick Guide

Designed for

QI-compatible Devices

Connectors

USB-C inputUSB-A charge output, 5V/1A

Wattage

10W

Input

Input voltage: USB 5V/2A, 9V/2A

Type Of Charger

Wireless Charger
No customer reviews for the moment.