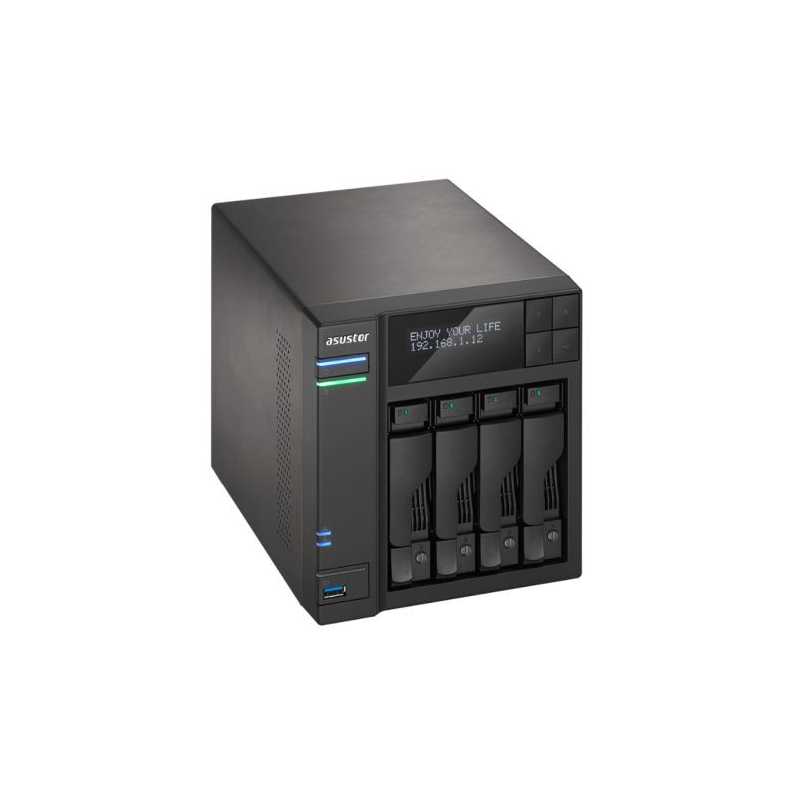  
ASUSTOR AS6404T 4-Bay NAS Enclosure (No Drives), Quad Core CPU, 8GB DDR3L, HDMI, USB3 Type-C, Wake on WAN, LCD Screen

A comprehensive 4 bay NAS equipped with an Intel Celeron (Apollo Lake) quad-core processor for powerful 4K output. Economical and perfect for both home and personal use.
Enhanced CPU and GPU provides comprehensive performance upgrades
8 GB of expandable dual-channel memory
Utilizes the latest HDMI 2.0 and USB 3.0 Type-C specifications
Unique WOW (Wake-on-WAN) function provides flexible power control and access

Maximized Computing Power
The all new AS6404T is equipped with the Intel Celeron (Apollo Lake) sixth generation 14nm process built quad-core processor. It features overclocking to 2.3GHz and overall performance that is enhanced by 30% when compared with previous generations, satisfying the needs for 24/7 access in small business environments.

Increased Multimedia Processing Power
The AS6404T features a built-in Intel HD graphics engine, supporting HEVC and VP9 hardware transcoding that significantly enhances multimedia and image processing performance by 30%.  This provides an unparalleled fluid usage experience for professionals and prosumers alike.

Fluid 4K Performance
The AS6404T comes built-in with 8GB of dual-channel DDR3L SO-DIMM memory, allowing for remarkably fluid 4K playback. Furthermore, support for mixed capacity memory expansion, enhances configuration flexibility.
Allows you to Connect to a New Generation of Devices
In addition to the existing USB 3.0 Type-A ports, the AS63/64 series devices have added two-way Type-C ports that allow your NAS to easily connect to a new generation of devices, quickly completing transfers of large multimedia files.
HDMI 2.0 Combined with 4K/UHD Output

Provides Crystal Clear Quality Displayed Perfectly
The AS63/64 series supports next generation HDMI 2.0 specifications, featuring up to 60/50P 4K resolution video which provides twice the fluidity of 4K 30P. Combined with built-in 2GB/8GB dual channel memory, this allows for the playback of 4K/UHD with unparalleled smoothness. No matter if it's your treasured collection of Blu-ray quality movies or videos that you have recorded with professional quality cameras, ASUSTOR NAS can perfectly display all of it in crystal clear quality.
*Please note that in order to play 4K/UHD 60P videos, you will need to use a HDMI 2.0 cable

Always on Standby
Want to access the data on your NAS at any time, but worried that leaving it powered on for a long period of time will result in costly power bills, wear and tear on your hard disks and NAS or that you will become the target of hackers? ASUSTOR has provided the AS63/64 series devices with two types of unique network wake (WOL/WOW) functions easing all of the doubts mentioned above! WOL (Wake on LAN) allows you to wake the NAS from sleep mode or when its powered off as long as you are in the same network. WOW (Wake on WAN) allows you to enable all NAS services via the Internet, providing added flexibility for powering on/off the NAS and data access. These two types of network wake functions allow you to save power, extend the life of your NAS and hard disks, and lower your chances of being randomly hacked, ensuring data security.
ASUSTOR Data Master (ADM) Operating System
ASUSTOR Data Master (ADM) is the dedicated operating system for all ASUSTOR NAS devices. If offers an intuitive and familiar user experience similar to most tablet device interfaces, effectively providing zero learning curve. See 
here
 for full details
Data Protection Starts with Storage

ASUSTOR understands that your data is priceless, therefore ASUSTOR NAS provides different RAID Volume options, giving your data various levels of protection from the moment it is first stored on the NAS. We recommend you plan your storage protection based on your NAS model and number of hard disks. Data protection has never been so simple.

Green Energy Efficiency
All ASUSTOR NAS products are designed and developed around ecologically friendly concepts. Not only do ASUSTOR NAS devices consume far less power than the average computer or server, but ASUSTOR's power saving and management functions allows users to plan out a whole week's power control schedule. Power scheduling can allow the NAS to power on, power off, sleep or perform other tasks at specified times of the day. This function can help to save a considerable amount of power while also prolonging the life of hard disks. Additionally, the new advanced WOW (Wake-On-WAN) function allows users to wake their NAS and access their files at any time.
Comprehensive Backup Solutions

The AS63 /64 provides over 12 different backup options and is connected to a variety of public cloud storage services including Amazon S3, ASUSWebStorage, Dropbox, Google Drive, OneDrive, Box.net, HiDrive, Ralus, WonderBox, xCloud and CrashPlan. You can also use FTP Explorer, USB external hard drive enclosures, external hard drives and local backup to ensure proper backup for your data. No matter if you are using Windows, Mac or Linux, ASUSTOR provides the proper tools for your backup needs. 
MyArchive cold backup technology turns NAS hard disks into removable storage archives. Directly insert a MyArchive hard disk into the NAS to easily access, backup and share terabytes of content.
Exclusive MyArchive Cold Backup Technology

Unlimited Capacity Expansion
MyArchive cold backup technology turns NAS hard disks into removable storage archives. Directly insert a MyArchive hard disk into the NAS to easily access, backup and share terabytes of content.
Saves power during system standby
Create an unlimited number of MyArchive hard disks
Utilizes built-in SATA 6 GB/s interface for faster data transfers
Compatible with add-on NFS/EXT4/HFS+ file system devices
Supports AES 256-bit encryption
Decryption via physical USB key

ASUSTOR's snapshot technology provides almost instantaneous creation of snapshots. It saves a significant amount of time and storage capacity when compared with traditional LUN backups. Should files become damaged or corrupted, the simple and intuitive interface allows administrators to quickly restore data, completing disaster recovery in the fastest time possible and providing uninterrupted service.
Virtual Machine Applications

Turning your NAS into a computer with 24/7 availability and tremendous energy efficiency is no longer just a dream. You will be able to use VirtualBox to install different types of operating systems to your NAS, creating v
Description
Specification
Device Type: Desktop NAS Enclosure
Series: ASUSTOR AS62
Drives: None
#Hide#Drive Bays: 4 Bay
Drive Bays: 4 x 3.5""/2.5"" HDD/SSD
Hot Swap: No
Max. Capacity: "40 TB (10 TB x 4, Capacity may vary by RAID types)"
Drive Interface: SATA 6Gb/s
RAID Levels: "Single disk, JBOD, RAID 0, 1, 5, 6, 10
Support for Online RAID Level Migration"
Interface(s): "4 x USB 3.0 (Type A x3, Type C x1)
2 x Gigabit Ethernet
1 x HDMI 2.0
1 x S/PDIF"
CPU: Intel Celeron J3455 Quad-Core 1.5 GHz
Apollo Lake
System memory: 8GB SO-DIMM DDR3L (4GB x 2)
Max 8GB
Power Supply: 90W Power Supply
Input Power Voltage: 100V to 240V AC
Networking Support: TCP/IP (IPv4 & IPv6)
Link Aggregation
Jumbo Frame (MTU)
VLAN
Cloud Connect
Wireless Network
DDNS and EZ-RouterCompatibility
Supports Wake-on-LAN (WOL)
WOW (Wake-on-WAN)
Security: "AES 256-Bit Encryption
Firewall: Prevent Unauthorized Access
Alert Notifications: E-mail, SMS

Encrypted Connections:
HTTPS, FTP over SSL/TLS, SSH, SFTP, Rsync over SSH

Built-in Hardware Encryption Engine:
AS70/64/63//62/61/31/32/10 Series"
Software: ASUSTOR Data Master (ADM) Operating System
- see overview for details
Additional Features: See Overview
Operating Environment: Operation Temperature: 0°C~40°C (32°F~104°F)
Humidity: 5% to 95% RH
Weight/Dimensions: 2.9 kg
185.5(H) x 170(W) x 230(D) mm
Package Contents: AS6404T Unit x 1
Installation CD x 1
AC Power Cord x 1
AC Power Adapter x 1
RJ-45 LAN Cable(Cat 5e) x 2
Thumb Screw (for 3.5"" HDD) x 16
Quick Start Guide
Package Weight: 4.5100 kg
Warranty: 3 Years