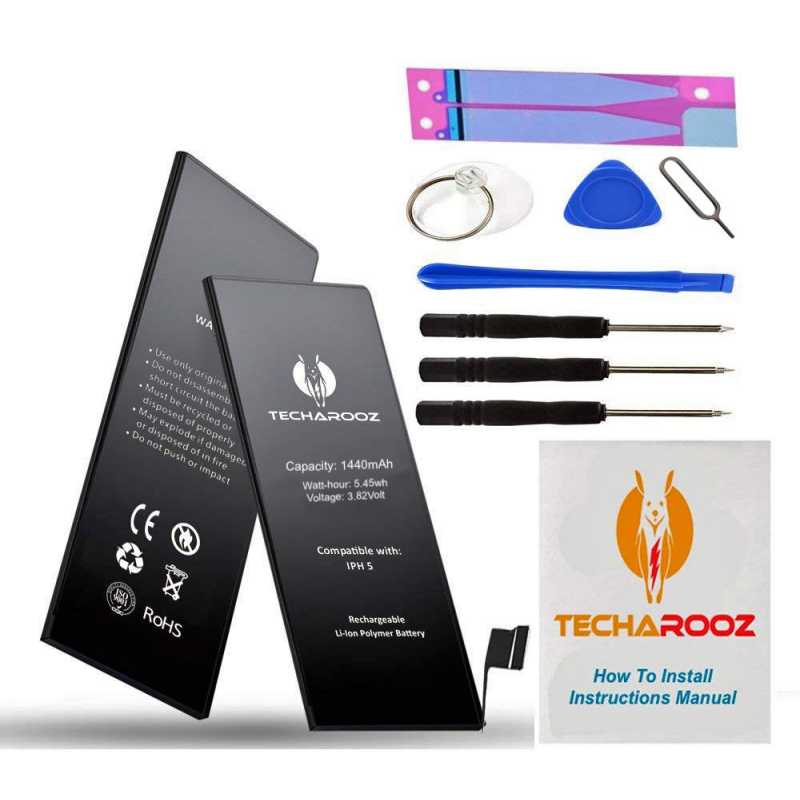  
TECHAROOZ iPhone 5 Battery Replacement Kit
TECHAROOZ Batteries are designed by our professional Engineers with carefully chosen Lithium ion cells and PCB's. All of our batteries are compliant with EU electronic safety laws and have passed CE certification so you can use them with extra peace of mind.
Charging Instructions
All new Li-ion batteries have to go through a charge / discharge cycles to work effectively. To get maximum efficiency out of your new battery, please install the battery (we assume you are equipped with installation instructions).
After installation, please don't switch on your phone, plug in your charger and leave the phone on charge for 10 to 12 hours (overnight preferably). Ignore the % shown and keep the charger plugged in. Once 12 hours charging cycle is complete then use the battery till fully discharged. Then repeat the above charging cycle again. Repeat this charge / discharge cycle for 3 times. After that your battery would start working at an optimum level.
FAQ 1: Why my phone does not start after installation? 2:Why my phone heat up and some blue spots are visible on the screen ?  
There are some reasons for these issues: 1)Battery connector is not connected properly to the logic board i.e. its either lose or partially connected. 2) LCD flex cable is not connected with the phone.
Best Quality Cells and CE Compliant
TECHAROOZ Replacement batteries are made with highest standards in mind hence in terms of quality they are up with the best. All of our batteries are CE Compliant.
Do no puncture or drop the battery

Do not use metallic screwdrivers to unplug any flex cables, use the plastic spudgers provided.
TECHAROOZ High Capacity Li-Ion Battery for iPhone 5 5G DIY Kit
TECHAROOZ replacement battery kit for iPhone 5 includes all the bits and pieces that you would need to perform the repair yourself.It includes:
Replacement battery for iPhone 5

DIY tool kit 

Adhesive tapes

Sim opening tool

Brief instructions manual to perform the repair yourself
No customer reviews for the moment.