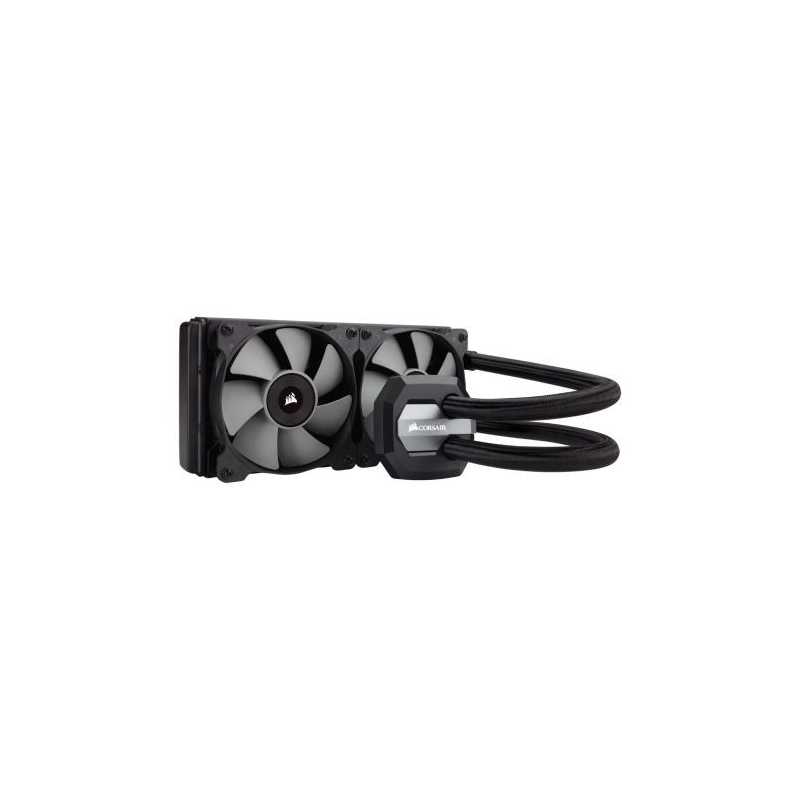  
Corsair Hydro H100i v2 240mm RGB Liquid CPU Cooler, 2 x 12cm PWM Fans, Link Monitoring

The Hydro Series™ H100i v2 liquid CPU cooler has a 240mm radiator and dual SP120L PWM fans for the excellent heat dissipation you need for highly overclocked CPUs.
Dual SP120L PWM Fans With Corsair Link Monitoring And Control For Extreme Liquid CPU Cooling Performance
The Hydro Series H100i v2 is an extreme performance, all-in-one liquid CPU cooler for cases with 240mm radiator mounts. The 240mm radiator and dual SP120L PWM fans provide the excellent heat dissipation you need for highly overclocked CPUs. Corsair Link is built in, so you can monitor temperatures, adjust cooling performance and customize LED lighting directly from your desktop.
240mm Radiator
The double-wide radiator offers approximately twice the cooling area of our Hydro Series coolers which use a 120mm or 140mm radiator. It fits virtually any case that has dual 120mm fan mounts spaced for a 240mm radiator.
Advanced SP120L PWM Fans
Our custom-designed SP120L fans are different than standard case fans – they're custom-designed to deliver high static pressure for mounting directly against radiators, and the fan blades are specially shaped for maximum air delivery with minimum noise. Since they're PWM controlled, you can customize the fan speed to choose the optimal point on the performance/noise curve.
Built-In Corsair Link For Monitoring, Customization, And Control
Attach the included Corsair Link cable to a USB header on your motherboard and download the free Corsair Link software to unlock even more power. You can customize cooling performance, monitor coolant and CPU temperatures, and change the color of the RGB LED lighting from the default white to match your system, or to change colour based on temperature readings and other inputs.
High-Performance CPU Cooling Made Simple
Gone are the days when watercooling required lots of work. The H100i v2 is a closed loop design that comes pre-filled, and it comes with a modular, tool-free mounting bracket for faster installation.
Description
Specification
Type: Liquid CPU Cooler
AMD/Intel: Combo
Compatibility: "Intel: 115x, Intel 2011/2066

AMD: AM3/AM2, AMD AM4"
Fan Connector(s): 4-pin
Material: Fan Material: Plastic
Cooler: Aluminium / Coppe
Fan Dimensions: 120 x 120 x 25 mm
Dimensions: 125 x 30 x 276 mm (WxHxD)
Rotation Speed: 2435 RPM
Air Flow: 70.69 CFM
Noise level: 37.7 dBA
Additional Features: See Overview
Package Contents: Hydro Series H100i v2 Liquid CPU Cooler
Mounting kit for all modern CPU sockets
Two 120mm High Torque Fans
Fan and radiator mounting screws
Thermal compound (pre-applied)
Package Type: Retail
Package Weight: 1.9600 kg
Warranty: 5 Years
#Hide#115x Sockets: Supports Sockets 115x
#Hide#2066 Socket: Supports Socket 2066
#Hide#2011(-3) Socket: Supports Socket 2011(-3)
#Hide#1366 Socket: Supports Socket 1366
#Hide#sTR4 Socket: Supports Socket sTR4
#Hide# AM4 Socket: Supports Socket AM4
#Hide# AM3(+) Socket: Supports Socket AM3(+)
#Hide# AM2(+) Socket: Supports Socket AM2(+)
#Hide# FM2(+) Socket: Supports Socket FM2(+)
#Hide#FM1 Socket: Supports Socket FM1
No customer reviews for the moment.