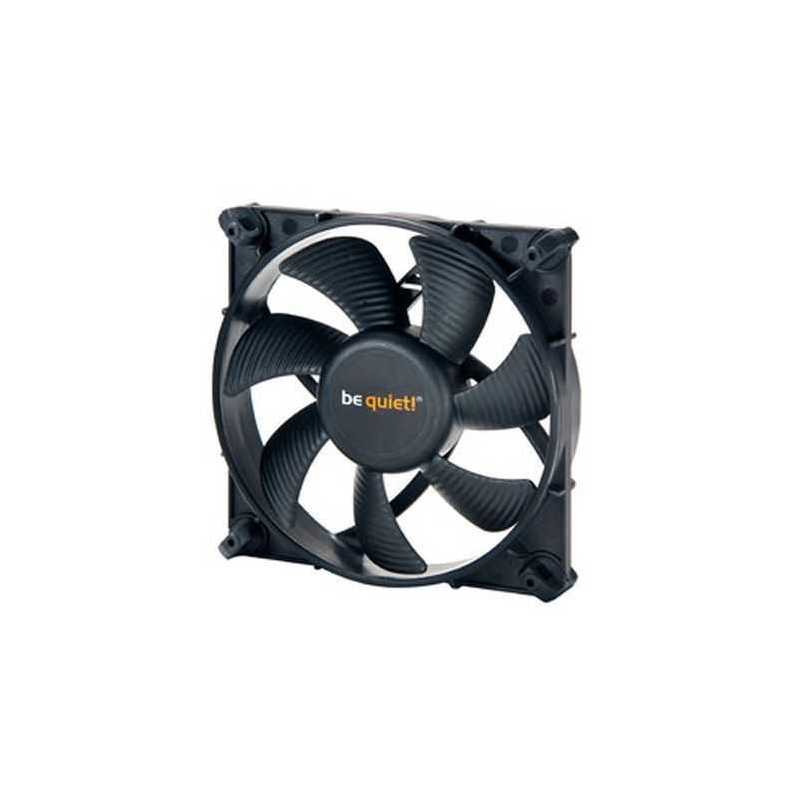  
Be Quiet! BL060 Silent Wings 2 8cm Case Fan, Fluid Dynamic Bearing, Black, Screwless, Silent
Be Quiet! Silent Wings 2 8cm Case Fan
Virtually Inaudible, State Of The Art Cooling
The SilentWings 2 fan family provides the greatest airflow-to-noise ratio and highest reliability on the market. Key to these fans' unrivalled and uncompromising performance are a unique airflow-optimized fan blade design, custom anti-vibration mounts, and a high-tech fluid dynamic bearing with copper core that greatly reduces noise and imparts super-long life. Through this advanced technology these fans achieve virtually silent operation without sacrificing airflow, and so offer the perfect balance between superior cooling and serenity.
The SilentWings 2 80mm model is a standard size fan that combines all of the above class-leading features with operating noise levels down to a virtually silent 14.5 dB(A).
Virtually Silent Operation
SilentWings® 2 fans include a wide array of electronic and mechanical optimizations for superior air flow with very low noise production
Unique airflow-optimized fan blade design reduces noise-generating fan turbulence
Advanced fluid dynamic bearing providing for greatly reduced operating noise
Improved modular vibration damping mounts and rubberized frame help prevent transmission of vibration to computer case and its components
Option for direct hard mount when preferred
Advanced high quality IC motor controller reduces electrical noise
Engineering
Advanced fluid dynamic bearing (FDB) with industrial grade lubricant eliminates direct contact between rotor and frame, resulting in extremely low noise levels
The FDB has a copper core that conducts heat away from the bearing more effectively, enabling super-long fan life of up to 300,000 hours
Dynamically balanced fan blades enhance reliability and result in maximum operating silence
German product conception, design and quality control
Outstanding Service and Support
3 year manufacturer's warranty
Description
Specification
Type: 8cm Case Fan
AMD/Intel: N/A
Fan Connector(s): 3-pin (4-pin Adapter)
Installation: Push pin fixing/Screw fixing
#Hide#LED Lighting: No
Colour: Black
Weight: 0.15 kg
Fan Dimensions: 80 x 80 x 25 mm
Fan Controller: No
Rotation Speed: 2000 RPM
Fan Bearing: Fluid Dynamic Bearing
Air Flow: 26cfm / 44.2m3/h (@ 12V)
Noise level: 14.5 dB(A)
Power: Input: 1.80W
Additional Features: See Overview
MTBF: "300,000 hours"
Package Type: Retail
Package Weight: 0.2000 kg
Warranty: 3 Years
No customer reviews for the moment.