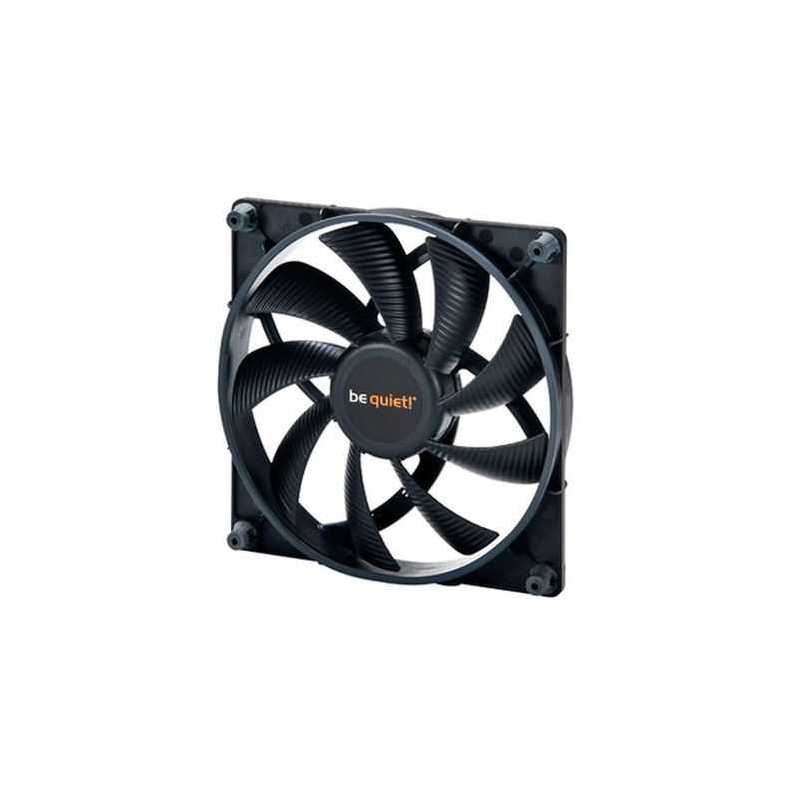  
Be Quiet! BL026 Shadow Wings 12cm PWM Case fan, Rifle Bearing, Black, Screwless, Ultra Quiet
Be Quiet! Shadow Wings 12cm Case fan
Whisper Quiet and Perfect Cooling
Very quiet operation
Low-noise operation due to high-quality rifle bearing. The parallel arrangement of recesses on the outer side of the bearing shaft ensure uniform circulation of the high-quality oil and make the fan very quiet. Mechanical noise is minimized by antivibration fasteners and the rubberized fan frame. The high-quality IC motor controller reduces electrical noise sources.
Long service life
Reliable cooling for up to 200,000 hours thanks to the high-quality rifle bearing.
High air flow
The flow-optimized surface structure of the fan blades produce more air flow in combination with smooth running.
Simple assembly
Screwless installation makes handling simple.
Service
3 year manufacturer guarantee.
Description
Specification
Type: 12cm Case Fan
AMD/Intel: N/A
Compatibility: -
Fan Connector(s): 4-pin
Installation: Push pin fixing
#Hide#LED Lighting: No
Colour: Black
Weight: 0.22 kg
Fan Dimensions: 120 x 120 x 25 mm
Fan Controller: PWM
Rotation Speed: 1500 RPM
Fan Bearing: Rifle Bearing
Air Flow: 50.5cfm / 85m3/h (@ 12V)
Noise level: 18.9 dB(A)
Power: Input: 2.40W
Additional Features: See Overview
MTBF: "200,000 hours"
Package Type: Retail
Package Weight: 0.2200 kg
Warranty: 3 Years
No customer reviews for the moment.