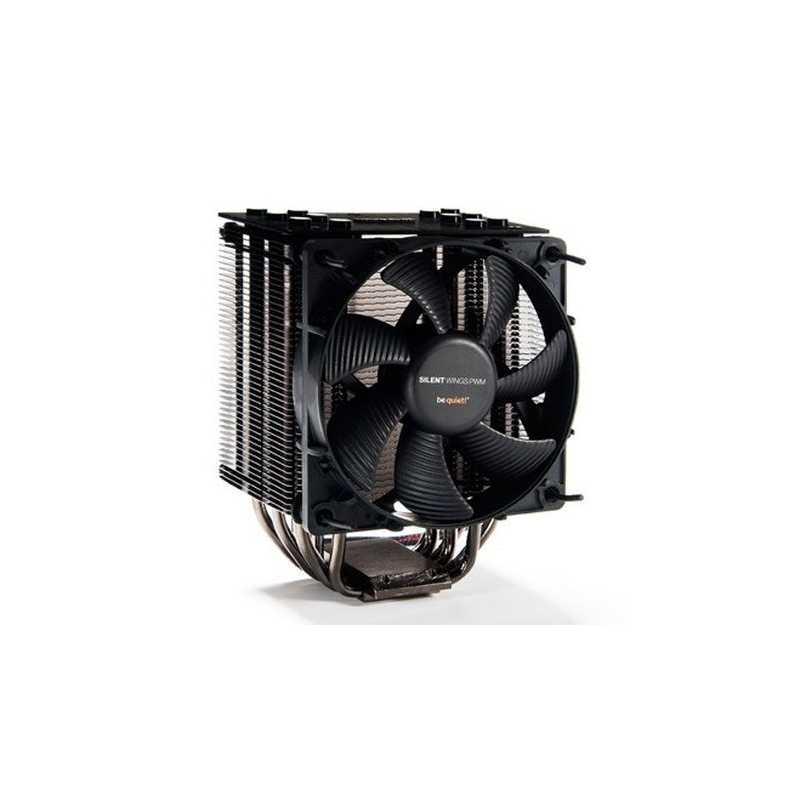  
Be Quiet! BK014 Dark Rock Advanced Heatsink & Fan, Intel & AMD Sockets, Silent Wings Fan, Fluid Dynamic
Be Quiet! Dark Rock Advanced Heatsink & Fan
High-end CPU Cooler for the toughest demands
The Dark RockC1 range of coolers is designed for the enthusiastic PC user who expects a great deal from their computer: performance, reliability and a very quiet operation.
The be quiet! Dark Rock AdvancedC1 combines maximum cooling efficiency with a pleasantly quiet operation. With an extremely low noise level, efficient cooling is provided for gaming, multimedia and CAD systems even at maximum processing power. This CPU cooler is enhanced by the high-quality materials used, as well as its attractive design.
Extremely efficient
• The six three-dimensional moulded heat pipes work rapidly to transport the heat with the help of an oxygen-free copper layer (OFC) to the optimum point within the cooling lamellas.
• The single-tower layout with six heat pipes enables excellent heat dissipation within a small space.
Nice and quiet
• The 120-mm fan guarantees the best ratio of cooling efficiency to noise level.
• The wave-shaped contour of the cooling lamellas prevents noises and optimises the airflow.
High-quality materials
• The fan surfaces are coated in dark nickel.
• The brushed, fully aluminium cover protects the cooling lamellas.
• The stable backplate ensures a shockproof attachment, even when transporting the computer.
Description
Specification
Type: Heatsink and Fan
AMD/Intel: Combo
Compatibility: Intel: LGA 775 / 1150 / 1151 / 1155 / 1156 / 1366

AMD: 754 / 939 / 940 / AM2(+) / AM3 (+) / FM1 / FM2 (+)
TDP: 180 W
Fan Connector(s): 4-pin
Colour: Black
Material: Fin: Aluminium
Base: Copper
Weight: 0.84 kg
Fan Dimensions: 120 x 120 x 25 mm
Heatsink Dimensions (LxWxH): 95 x 96 x 166 mm
Fan Controller: No
Rotation Speed: 1500 RPM
Fan Bearing: Fluid Dynamic Bearing
Air Flow: 50.5cfm / 85.8m3/h (@ 12V)
#Hide#775 Socket: Supports Socket 775
Noise level: 6.6 / 14.4 / 18.8 dB(A)
Power: Input: 1.09W
Additional Features: See Overview
MTBF: "300,000 hours (approx.)"
Package Type: Retail
Package Weight: 1.2400 kg
Warranty: 3 Years
#Hide#115x Sockets: Supports Sockets 115x
#Hide#1366 Socket: Supports Socket 1366
#Hide# AM3(+) Socket: Supports Socket AM3(+)
#Hide# AM2(+) Socket: Supports Socket AM2(+)
#Hide# FM2(+) Socket: Supports Socket FM2(+)
#Hide#FM1 Socket: Supports Socket FM1
No customer reviews for the moment.