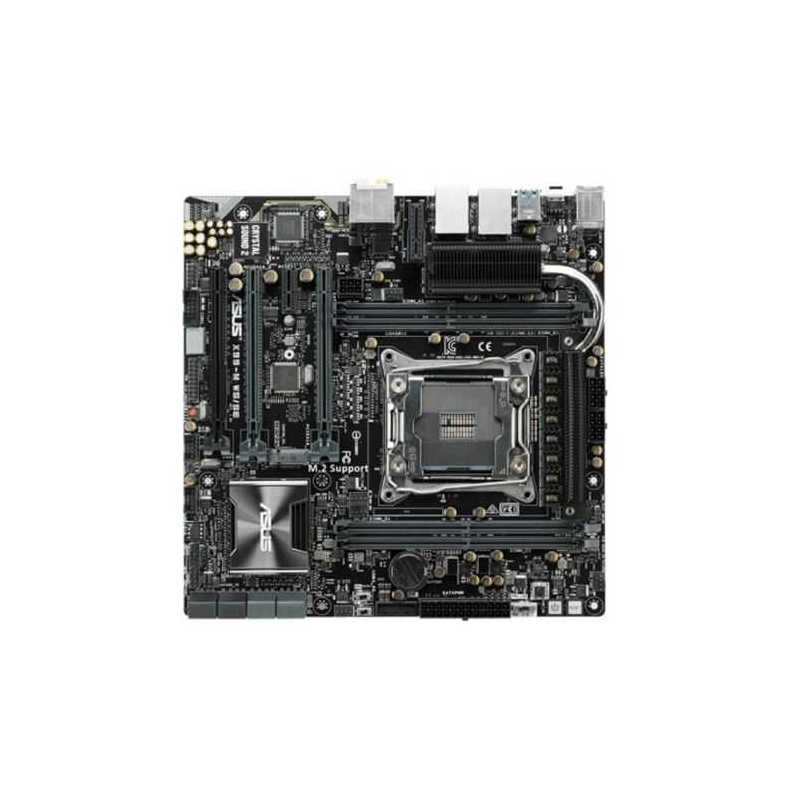  
Asus X99-M WS/SE, Workstation, Intel X99, 2011-3, Micro ATX, DDR4, Dual GB LAN, XFire/SLI, RAID

The most-powerful X99 micro-ATX with USB 3.1 on board
Ultimate micro-ATX graphics power – Accommodates dual PCI Express 3.0 graphics cards at x16 speed
The latest 10Gb/s USB 3.1 – Built into the board-twice as fast USB 3.0
5-Way Optimization by Dual Intelligent Processors 5 – One click, total system optimization
Supreme Power Solution – Premium components deliver industry-leading power efficiency
Crystal Sound 2-Flawless audio that makes you part of the game
______________________________________________________________
The Intel X99 chipset-based workstation motherboard features on-demand NVIDIA® GeForce® SLI™ and AMD CrossFireX™ technology.
Ultimate micro-ATX graphics power: Two-way PCIe Gen 3 at x16 speed
X99-M WS/SE is the first ASUS micro-ATX with PCIe slots able to accommodate up to two dual-slot graphics cards. The new motherboard supports both two-way NVIDIA® Geforce® SLI™ and AMD® CrossFireX™ configurations, making it an excellent choice for graphics professionals who depend on powerful graphics in areas such as design and modeling, medical research, plus processing-intensive simulation and rendering applications. 
In addition to graphics cards, extensive expandability offers ample room for RAID cards, PCI Express-based solid-state drives (SSDs), video-capture cards and many other popular components.
ASUS X99-M WS/SE couples innovative thinking with premium components to deliver industry-leading power efficiency.
Carefully engineered with Beat Thermal Chokes made of highly conductive and efficient gold-treated coating for minimal-loss power delivery and integrated Dr.MOS MOSFET that both saves space and reduces operating temperatures. For the latest workstation motherboard, ASUS introduce the industry's most durable 12K solid capacitors, and exclusive ASUS ProCool power connectors. X99-M WS/SE is built to stay cool under pressure - and boosts performance, power efficiency and product longevity into extreme levels!
12K hour caps - Capacitors with World's Best Longevity
ASUS is the world's first motherboard manufacturer to introduce 12K solid capacitors, and X99-M WS/SE is of course equipped. These Japanese-made capacitors are the most durable in the industry, able to endure up to 12K hours at 105 °C and 1.2M hours at 65 °C. This is far higher than the temperatures generated by everyday computing, so X99-M WS/SE is built for endurance . Our 12k capacitors also boast lowered equivalent series resistance (ESR) for increased efficiency and minimized heat generation - improving overall performance!
Flagship performance
______________________________________________________________
Drive CPU and DDR4 performance beyond all expectations!
Patent Pending OC Socket
Designed to break performance barriers, ASUS OC Socket utilizes extra pins to connect a proprietary circuit to contacts found on Haswell-E's land grid array (LGA). Combined with our customized UEFI, this exclusive feature enables higher DDR4 memory frequencies, lower latencies and enhanced stability while overclocking, extending all the way to extreme overclocking conditions, such as Liquid Nitrogen (LN2). OC Socket is 100% compatible with new Haswell-E LGA 2011-v3 CPUs, ensuring the ideal combination of overclocking performance and compatibility.
Unique Cache Bus Voltage Adjustment
Cache bus links areas such as CPU cores, DDR4 Memory Controllers, System Agent and the shared L3 Cache. It is a critical interconnect for the whole CPU subsystem. Higher cache bus frequency directly gives faster total sub-system performance. ASUS OC Socket exclusively provides an adjustable cache bus voltage to reach higher cache bus frequencies.
Make your memory go faster
This is the first platform to support DDR4 memory, and it is capable of overclocking memory up to DDR4 3200+ MHz with all eight DIMMs fully loaded! ASUS-exclusive T-Topology circuit design plus patent-pending OC Socket unleash the full potential of DDR4 by minimizing crosstalk and signal reflections. Thanks to our expertise in motherboard layout design, signal timing issues are also greatly reduced, resulting in improved stability and overall performance. ASUS works with almost every DDR4 memory vendor to ensure the best compatibility - so you're assured reliable performance from your favorite brands.
One click overclock and cooling, done!
Get performance, efficiency, digital power, fan control and even networking and audio tuning tailored for you
One click takes care of all that complex tuning. Your PC is smart with ASUS 5-Way Optimization. It dynamically optimizes essential aspects of your system based on real-time use – so you get superb CPU performance, everyday energy savings, ultra-stable digital power, cool and quiet fans and now even networking and audio settings that are tailored for the apps that you are using. In short, 5-Way Optimization ensures that your PC is perfect for gaming, entertainment, productivity or just about anything else!
Games run swiftly and smoothly with highest performance, prioritized bandwidth and crystal-clear sound.
Fans stay whisper-quiet for everyday computing and ensure extreme cooling efficiency when gaming.
Never-stutter in professional apps and heavy loading.
Energy waste is reduced so you'll save money.
Fan Xpert 3 puts 4-pin/3-pin CPU and case fan controls in one place. It scans each fan's characteristics and delivers custom settings for each fan based on the dedicated area temperatures detected by hardware thermal sensors. Make sure every fan achieves the best balance of cooling performance and low noise. Fan Xpert 3 supports hardware-level PWM/DC combo mode for both the CPU and case fans. It even can  reduce the CPU fan speed to below the default minimum, for extra-quiet and power saving operation during light loads.
Media-acclaimed UEFI BIOS
The smoothest, slickest mouse-controlled graphical BIOS has been improved to make it even more appealing. Whether you're a PC novice or a seasoned overclocker, the EZ and Advanced Modes help you find your way, quickly and easily.
Fan Profile:
Detailed CPU and case fan information for instant cooling!
SATA Information:
Displays SATA port details for you to easily recognize devices!
Fast Clock Adjustment:
Use mouse controls to change the time and date!
EZ XMP:
Improve your DRAM performance with a click!
GPU POST:
Find more info about your graphics cards and slot bandwidth allocation. Great for 2 or 3-way SLI or CrossFireX 
Shortcut:
Press Enter to create shortcuts to favorite settings, or select an existing shortcut and press F4 to go straight there!
Quick Notes:
Description
Specification
Motherboard Type: Server / Workstation
Form Factor: Micro ATX
Socket: 2011-v3
Chipset: Intel X99
#Hide#DDR Type: DDR4
RAM Technology: DDR4 (Quad Channel)
RAM Slots: 4 x DIMM
RAM Speeds: 200(O.C.)/3000(O.C.)/2800(O.C.)/2666(O.C.)/2400(O.C.)/2133 MHz
Maximum Memory: 64GB
Graphics: -
Graphics Ports: -
Multi-GPU Support: Supports NVIDIA 4-Way SLI Technology
Supports AMD 4-Way CrossFireX Technology
PCI Express: "40-Lane CPU:
3 x PCIe 3.0 x16 (x16, x16/x16, x16/x16/x8)

40-Lane CPU:
1 x PCIe 2.0 x1

28-Lane CPU:
3 x PCIe 3.0 x16 ( x16, x16/x8, x16/x8/x4)

28-Lane CPU:
1 x PCIe 2.0 x1"
PCI: -
Storage: 8 x SATA III
1 x M.2 Socket (2260/2280) - SATA & PCIe
RAID: "RAID 0, 1, 5, 10"
Wireless: -
LAN: Dual GB LAN
Audio: Realtek ALC1150 8-Channel High Definition Audio CODEC featuring Crystal Sound 2
USB Ports Supported: "2 x USB 3.1 Gen 2 ports (at back)
6 x USB 3.1 Gen 1 ports (4 at back, 2 at mid-board)
6 x USB 3.0 ports (2 at back, 4 at mid-board)"
Back Panel I/O Ports: 2 x LAN (RJ45)
2 x USB 3.1 Gen 2
4 x USB 3.1 Gen 1
2 x USB 2.0
1 x Optical S/PDIF out
1 x USB BIOS Flashback Button
1 x 8-channel Audio I/O
Internal I/O Connectors: 1 x USB 3.1 Gen 1 connector
2 x USB 2.0 connectors
1 x M.2 Socket 3
1 x TPM
8 x SATA 6Gb/s
1 x CPU Fan
1 x CPU OPT Fan
3 x Chassis Fan
1 x S/PDIF out
2 x 8-pin EATX 12 V
1 x 6-pin EATX 12 V_1
1 x 24-pin EATX
.: 1 x 8-pin ATX 12V
1 x EZ XMP switch
1 x Front panel
1 x System panel
1 x DRCT
1 x Thermal sensor
1 x TPU switch
1 x EPU switch
1 x Power-on button
1 x Reset button
1 x Clear CMOS button
1 x COM port header
CPU Support: Click here for CPU support
Accessories: Users manual
ASUS Q-Shield
1 x COM port cable(s)
8 x SATA 6Gb/s cable(s)
1 x Supporting DVD
1 x SLI bridge(s)
1 x Q-connector(s) (2 in 1)
1 x 2-port USB 2.0 module(s)
Additional Features: See Overview
Package Type: Retail
Package Weight: 1.6740 kg
Warranty: 3 Years
Data sheet
.

1 x 8-pin ATX 12V, 1 x EZ XMP switch, 1 x Front panel, 1 x System panel, 1 x DRCT, 1 x Thermal sensor, 1 x TPU switch, 1 x EPU switch, 1 x Power-on button, 1 x Reset button, 1 x Clear CMOS button, 1 x COM port header

PCI Express

"40-Lane CPU

Wireless

-

RAM Speeds

200(O.C.)/3000(O.C.)/2800(O.C.)/2666(O.C.)/2400(O.C.)/2133 MHz

Accessories

Users manual, ASUS Q-Shield, 1 x COM port cable(s), 8 x SATA 6Gb/s cable(s), 1 x Supporting DVD, 1 x SLI bridge(s), 1 x Q-connector(s) (2 in 1) , 1 x 2-port USB 2.0 module(s)

USB Ports Supported

"2 x USB 3.1 Gen 2 ports (at back), 6 x USB 3.1 Gen 1 ports (4 at back, 2 at mid-board), 6 x USB 3.0 ports (2 at back, 4 at mid-board)"

Storage

8 x SATA III, 1 x M.2 Socket (2260/2280) - SATA & PCIe

RAID

"RAID 0, 1, 5, 10"

Warranty

3 Years

Motherboard Type

Server / Workstation

Form Factor

Micro ATX

Socket

2011-v3

Chipset

Intel X99

DDR Type

DDR4

RAM Technology

DDR4 (Quad Channel)

RAM Slots

4 x DIMM

Maximum Memory

64GB

Multi-GPU Support

Supports NVIDIA 4-Way SLI Technology , Supports AMD 4-Way CrossFireX Technology

PCI

-

LAN

Dual GB LAN

Audio

Realtek ALC1150 8-Channel High Definition Audio CODEC featuring Crystal Sound 2

Back Panel I/O Ports

2 x LAN (RJ45), 2 x USB 3.1 Gen 2 , 4 x USB 3.1 Gen 1 , 2 x USB 2.0 , 1 x Optical S/PDIF out, 1 x USB BIOS Flashback Button, 1 x 8-channel Audio I/O

Internal I/O Connectors

1 x USB 3.1 Gen 1 connector, 2 x USB 2.0 connectors, 1 x M.2 Socket 3, 1 x TPM, 8 x SATA 6Gb/s, 1 x CPU Fan, 1 x CPU OPT Fan, 3 x Chassis Fan, 1 x S/PDIF out, 2 x 8-pin EATX 12 V, 1 x 6-pin EATX 12 V_1, 1 x 24-pin EATX

CPU Support

See manufacturers link (next to product images)

Package Type

Retail

Package Weight

1.6740 kg

Graphics Ports

-

Additional Features

See Overview

Graphics

-