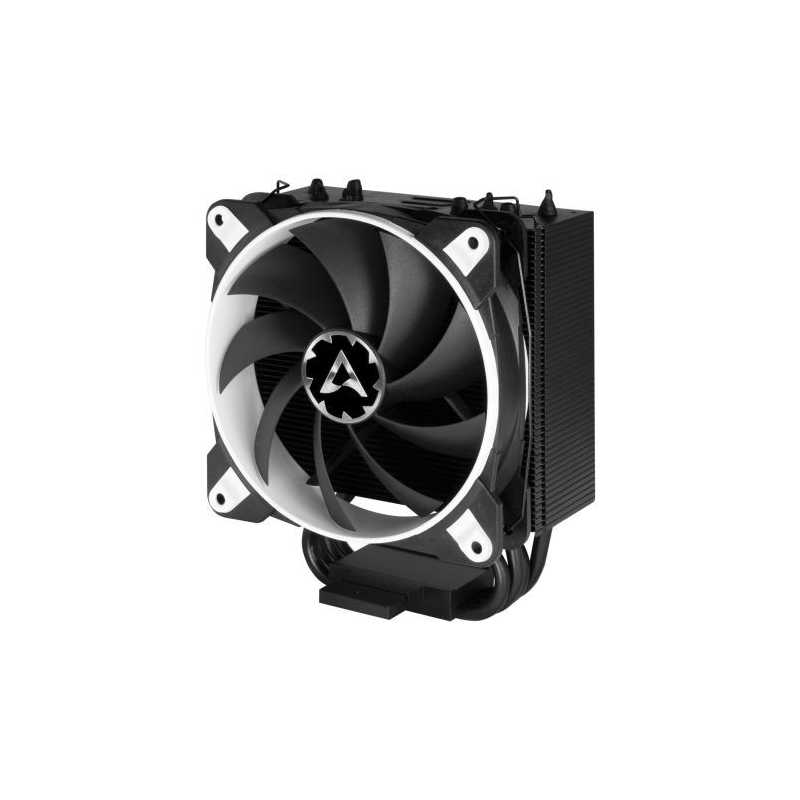  
Arctic Freezer 33 Heastink & Fan, Black & White, Intel & AMD Sockets, Fluid Dynamic Bearing, 10 Year Warranty
Price-Performance Champ
The Freezer 33 TR is an updated version of our award-winning Freezer 33 and specially designed for the new AMD Ryzen Threadripper CPU. The base of the heatsink has been enlarged to fit the massive AMD SocketTR4 and, equipped with a BioniX F120 fan, it pushes the cooling performance further to cope with the 180 W TDP of the AMD Ryzen.
The Freezer 33 TR is the perfect CPU cooling solution for enthusiasts who want to build High-End Desktop Computer on a budget.
Maximum Quietness, Minimum Vibration
Extremely quiet operation through a newly developed motor guarantees long sessions without annoying noise.
ARCTIC's new motor of the BioniX Fans eliminates vibrations directly at its source, in particular at the motor. The ARCTIC motor absorbs 95 % of vibrations compared to a conventional DC motor. Thus, there is no need for rubber spacers due to the steady torque and smoother switching of the magnet field.
Maximum Performance for Highest-End CPUs
The contact surface of the Freezer 33 TR heatpipes does not cover the full protection cap, but, more importantly, are right where the processor DIE is and cover even the largest versions (18 core) completely. This leads to maximum performance.|
Wide Range of Regulation
With the range of 200 to 1800 RPM the BioniX F120 fan of the Freezer 33 TR is controllable with the Patented PWM Sharing Technology to regulate the fan speed as needed.
Extended Life Span
10 degrees lower motor temperature doubles the life span. The BioniX gaming fans have a four times longer service life through low coil temperature. Therefore, we extend the warranty to 10 years.
Improved Heat Dissipation
The Freezer 33 TR has off-centered heat pipes that dispense the heat in a more efficient way than the centered ones of its predecessors. Also, the layout of the 49 aluminium fins creates micro vortices that boost the airflow and circulate it around the heatpipes.
Thermal Coating
A newly developed thermal coating creates micro-turbulences with a special surface structure. Combined with offset heat pipes this leads to an optimised heat-dissipation and to an increased cooling performance.
Enlarged base for AMD Threadripper
The Freezer 33 TR is specifically designed for the new 
AMD Ryzen Threadripper sTR4 Processor and delivers 
extremely quiet cooling for High-End Desktop Computers.
Enhanced Bearing
Due to a new alloy/lubricant combination developed in Germany, the friction within the bearing is reduced and a greater efficiency is achieved. This way, there is less heat development as well as less bearing noise and you can enjoy a longer service life of your cooler.
Easy Installation & Safe Transportation
Thanks to different mounting models for various sockets, a backplate and a significantly lower weight compared to the i30, 
the Freezer 33 TR is not only fool-proof to install, but also absolutely transport safe.
Multilingual Manuals
We offer a regularly updated user manual in many languages conveniently at your fingertips anywhere and anytime. Put the QR code sticker at a place of your convenience and never waste time again looking for product instructions. 
Description
Specification
Type: Heatsink and Fan
AMD/Intel: Combo
Compatibility: "Intel:
2066**, 2011(-3)

AMD:
sTR4, AM4"
TDP: Up to 200 Watts
Fan Connector(s): 4-pin
Installation: Screws
Colour: Black & White
Material: Plastic & Aluminium
Weight: 705 g
Fan Dimensions: 120 mm
Heatsink Dimensions (LxWxH): 123 x 155 x 89 mm
Fan Controller: PWM
Rotation Speed: "200 –1,800 RPM (controlled by PWM)"
Fan Bearing: Fluid Dynamic Bearing
Noise level: 0.5 Sone
Power: 0.20 A/+ 12 V DC
Additional Features: See Overview
Package Type: Retail
Package Weight: 0.9000 kg
Warranty: 10 Years
#Hide#2066 Socket: Supports Socket 2066
#Hide#2011(-3) Socket: Supports Socket 2011(-3)
#Hide#sTR4 Socket: Supports Socket sTR4
#Hide# AM4 Socket: Supports Socket AM4
No customer reviews for the moment.