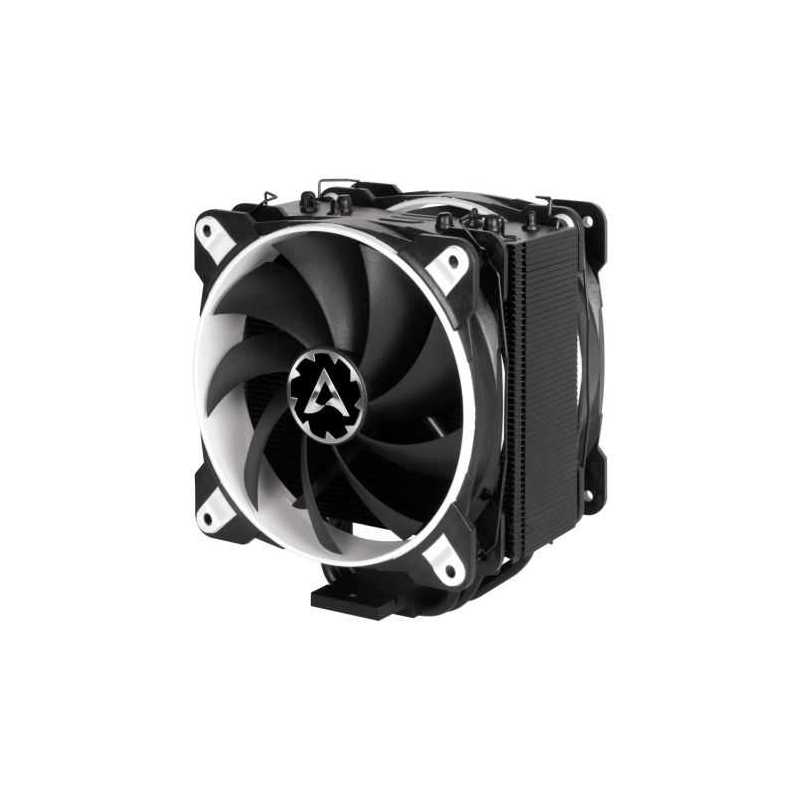  
Arctic Freezer 33 eSports Edition Heatsink & Fan, Black & White, Intel & AM4 Sockets, 2 x Fans, Fluid Dynamic Bearing, 10 Year Warranty
Tower CPU Cooler with Push-Pull Configuration
Maximum Quietness, Minimum Vibration
Extremely quiet operation through a newly developed motor guarantees long sessions without annoying noise.
ARCTIC's new motor of the BioniX Fans eliminates vibrations directly at its source, in particular at the motor. The ARCTIC motor absorbs 95 % of vibrations compared to a conventional DC motor. Thus, there is no need for rubber spacers due to the steady torque and smoother switching of the magnet field.
Maximum Performance for Highest-End CPUs
The contact surface of the Freezer 33 eSports Edition heatpipes does not cover the full protection cap, but, more importantly, are right where the processor DIE is and cover even the largest versions (18 core) completely. This leads to maximum performance.
Optimised Fan Design
We further optimised the fan blade design to get a higher airflow 
at lower noise generation. With the range of 200 to 1 800 RPM 
the fans of the Freezer 33 eSports Edition are controllable 
with the Patented PWM Sharing Technology to 
regulate the fan speed as needed.
Extended Life Span
10 degrees lower motor temperature doubles the life span. The BioniX gaming fans have a four times longer service life through low coil temperature. Therefore, we extend the warranty to 10 years.
Improved Heat Dissipation
The Freezer 33 eSports Edition has off-centered heat pipes that disperse the heat in a more efficient than the centered 
ones of its predecessors. Also, the layout of the 49 aluminium fins creates micro vortices that boost the airflow and 
circulate it around the heatpipes.
Thermal Coating
A newly developed thermal coating creates micro-turbulences with a special surface structure. Combined with offset heat pipes this leads to an optimised heat-dissipation and to an increased cooling performance.
Optimal Compatibility
Fast and easy to install and extremely reliable, the different mounting systems are compatible with Intel and AMD sockets. 
Thanks to a backplate and a significantly lower weight compared to the i30, the Freezer 33 eSports Edition is not only 
fool-proof to install, but also absolutely transport safe.
Multilingual Manuals
We offer a regularly updated user manual in many languages conveniently at your fingertips anywhere and anytime. Put 
the QR code sticker at a place of your convenience and never waste time again looking for product instructions.
Description
Specification
Type: Heatsink and Fan
AMD/Intel: Combo
Compatibility: "Intel:
1151, 1150, 1155, 1156, 2066, 2011(-3)

AMD:
AM4"
TDP: Up to 210 Watts
Fan Connector(s): 4-pin
Installation: Push-Pin
Colour: Black & White
Material: Plastic & Aluminium
Weight: 805 g
Fan Dimensions: 2 x 120 mm Fans
Dimensions: 123 x 150 x 103 mm
Fan Controller: PWM
Rotation Speed: "200 -1,800 RPM (controlled by PWM)"
Fan Bearing: Fluid Dynamic Bearings
Power: 0.20 A/+ 12 V DC per Fan
Additional Features: See Overview
Package Type: Retail
Package Weight: 0.9800 kg
Warranty: 10 Years
#Hide#115x Sockets: Supports Sockets 115x
#Hide#2066 Socket: Supports Socket 2066
#Hide#2011(-3) Socket: Supports Socket 2011(-3)
#Hide# AM4 Socket: Supports Socket AM4
No customer reviews for the moment.