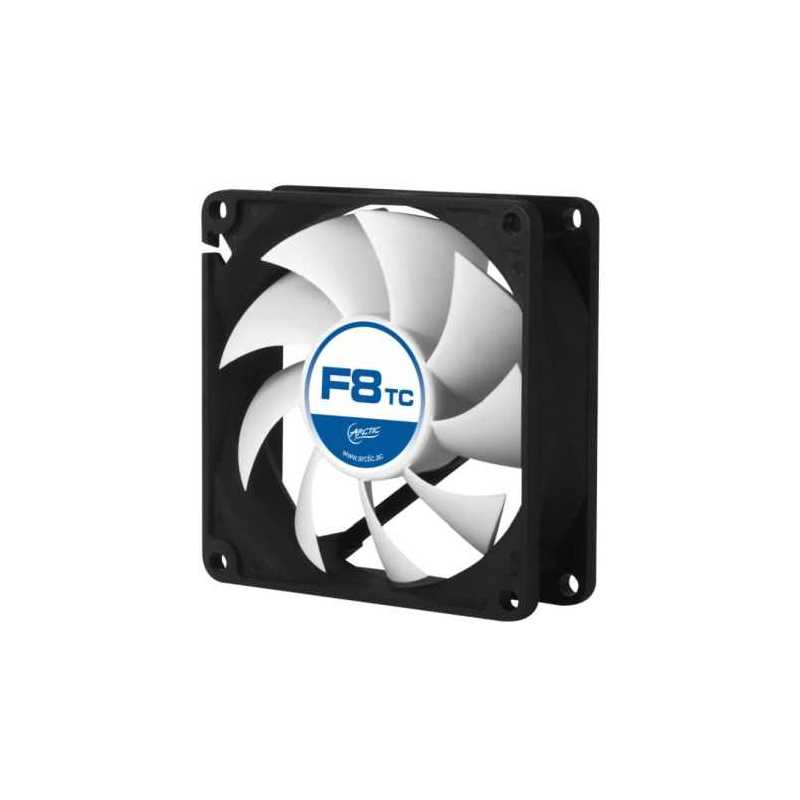  
Arctic F8 8cm Temperature Controlled Case Fan, Black & White, Fluid Dynamic, 6 Year Warranty
3-Pin Temperature-controlled fan with standard case
Long Service Life
The Fluid Dynamic Bearing comes with an oil capsule that avoids lubricant leakage. Thus this bearing is as quiet as a sleeve bearing but comes with a significantly higher service life
Innovative Design Enables Quiet and Efficient Ventilation
The innovative design of the fan blades improves the air flow and facilitates a highly efficient ventilation. The impeller was designed with a focus on minimzing the noise level yet delivering the desired airflow and pressure.
Ideal Temperature Control
The temperature sensor is on a 40 cm cable and can be placed in the warm areas of your computer. This assures temperatures no higher than 38 °C anywhere in the case and supports the cooling of your CPU or graphics card. On the other side this fan keeps the noise level absolutely minimal and only increases the speed if necessary.
Two Way installation
Blow warm air out of the case
Draw cool air into your case
Description
Specification
Type: 8cm Case Fan
AMD/Intel: N/A
Compatibility: -
Fan Connector(s): 3-pin
Installation: Screws
#Hide#LED Lighting: No
Colour: Black & White
Weight: 72 g
Fan Dimensions: 80 x 80 x 25 mm
Rotation Speed: "up to 2,000 RPM"
Fan Bearing: Fluid Dynamic
Air Flow: "31 CFM / 52.7 m³/h (@ 2,000 RPM)"
Noise level: "0.3 Sone (@ 2,000 RPM)"
Power: 12V DC
Additional Features: See Overview
Package Type: Retail
Package Weight: 0.1000 kg
Warranty: 6 Years
No customer reviews for the moment.