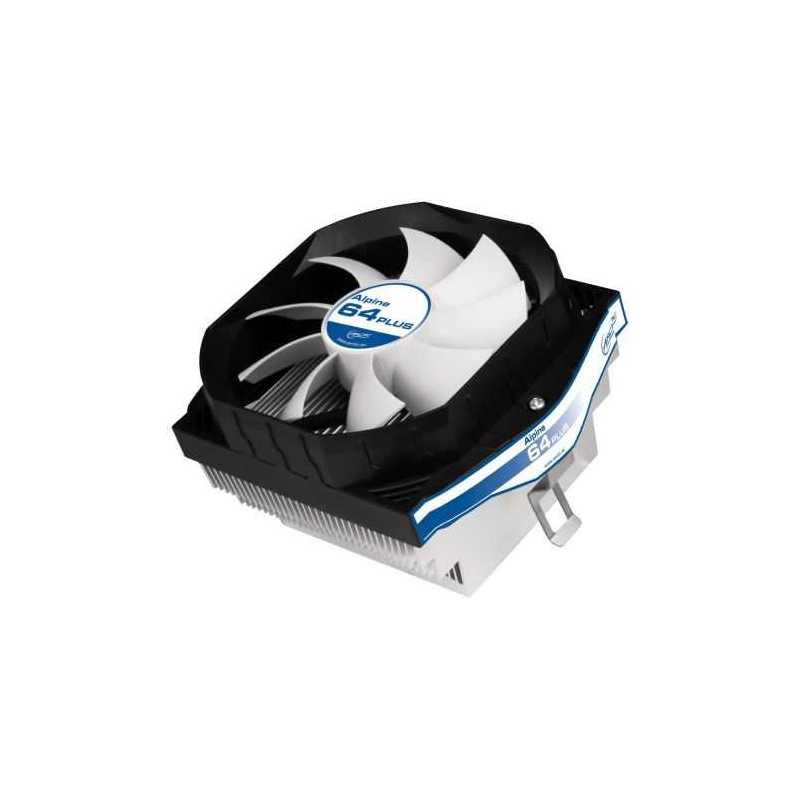  
Arctic Alpine 64 Plus Heatsink & Fan, AMD Sockets, Fluid Dynamic Bearing, 6 Year Warranty
Excellent Cooling Performance 
The 92 mm PWM fan, aluminum heatsink in combination with pre-applied MX-4 high performance thermal compound provide excellent cooling performance and improve heat transfer from the CPU. As shown in the test by Mod Your Case, the cooler excels the boxed cooler in reducing the temperature significantly by up to 26 degrees. 
Ultra Quiet 
Test results from VR-Zone have shown that the cooler is nearly inaudible comparing with the boxed cooler. Thanks to the PWM control, the fan speed adjusts according to the CPU temperature and thus the noise level remainsat an absolute minimum which qualifies it as a silent cooler. Click here to see how the PWM control settings can be changed according to your performance and noise preference. 
Wide-compatibility 
The Alpine 64 PLUS features wide compatibility with AMD sockets. Its simple mounting system is designed to work with most of today's CPUs. Alpine 64 PLUS is compatible with AMD Sockets FM2+, AM2, FM1, AM3+, AM3, AM2+, AM2 and 939. 
Improved Installation - quick, easy, reliable 
The mounting of the Alpine 64 PLUS is absolutely transport proof, the MX-4 thermal compound already pre-applied onto the heatsink. New in Rev. 1.1: The installation is significantly easier and even quicker - Put it on (clips hook in automatically), fasten the screws - ready. 
Description
Specification
Type: Heatsink and Fan
AMD/Intel: AMD
Compatibility: "AM4, AM3(+), AM2(+), FM2(+), FM1"
TDP: Up to 90 Watts
Fan Connector(s): 4-pin
Installation: Screws
#Hide#LED Lighting: No
Colour: Black & White
Material: Plastic & Aluminium
Weight: 430 g
Fan Dimensions: 92 mm
Dimensions: 115 x 98 x 70 mm
Fan Controller: PWM
Rotation Speed: "600 - 2,000 RPM (Controlled by PWM)"
Fan Bearing: Fluid Dynamic Bearing
Air Flow: 74 CFM / 125.7 m3/h
Noise level: 0.4 Sone
Power: 0.25 A / +12 V DC
Additional Features: See Overview
Package Type: Retail
Package Weight: 0.4600 kg
Warranty: 6 Years
#Hide# AM4 Socket: Supports Socket AM4
#Hide# AM3(+) Socket: Supports Socket AM3(+)
#Hide# AM2(+) Socket: Supports Socket AM2(+)
#Hide# FM2(+) Socket: Supports Socket FM2(+)
#Hide#FM1 Socket: Supports Socket FM1
No customer reviews for the moment.