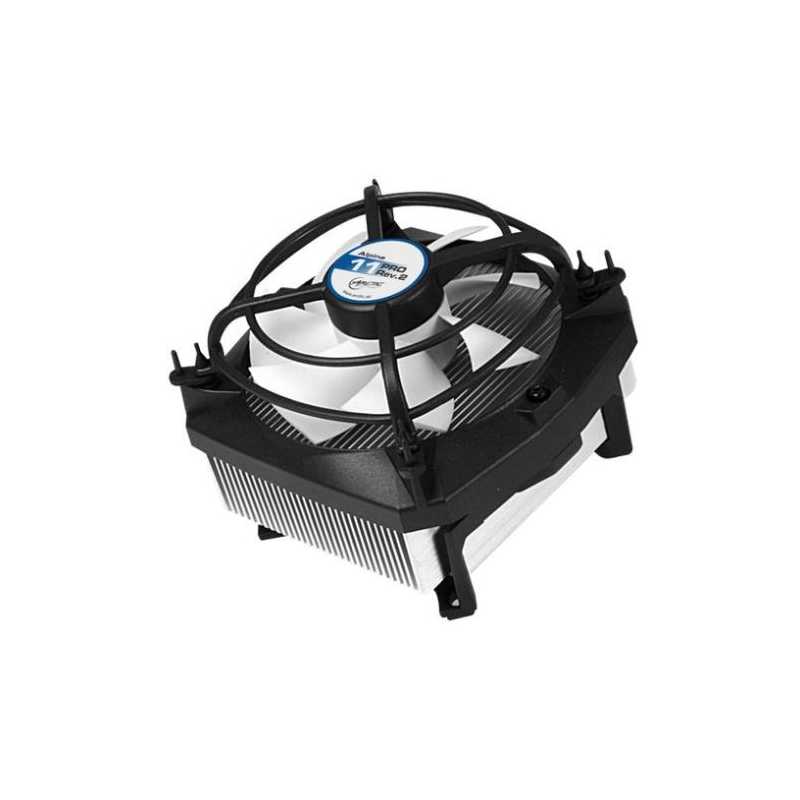  
Arctic Alpine 11 Pro Heatsink & Fan, Intel Sockets, Fluid Dynamic Bearing, 6 Year Warranty
Excellent Cooling Perfomance
A 92 mm PWM fan on an aluminum extrusion heatsink in combination with pre-applied MX-2 high performance thermal compound provide good cooling performance and improve heat transfer from the CPU. In a test conducted by Dragon Steel Mods, the Alpine 11 Pro successfully reduced the CPU temperature of an Intel Q6600 by 6 degrees.
Ultra Quiet
Its low noise impeller, patented fan holder and anti-vibration parts ensure the fan to work quietly even under full load.
The test done by TweakTown has shown that the Alpine 11 Pro is 14 dBA and 9 dBA lower than the AMD and Intel boxed cooler respectively at full load.
Thanks to the PWM control, the fan speed adjusts according to the CPU temperature and thus the noise level remains at an absolute minimum which qualifies it as a silent cooler.
Wide-compatibility
The Alpine 11 Pro features wide compatibility with Intel sockets. Its simple mounting system is designed to fit most of today's CPUs.
The Alpine 11 Pro is compatible with Intel Sockets 1150, 1151, 1155, 1156, 775.
Vibration Absorption
The patented vibration absorption fan holder is the key to keep the Alpine 11 Pro inaudible. It absorbs vibration caused by the spinning of the fan and thus it's barely heard even when it's running at full speed. 
Quick Installation
Installation is a breeze with the push pins. The pre-applied MX-2 high performance thermal compound makes the installation a quick and clean process. 
Description
Specification
Type: Heatsink and Fan
AMD/Intel: Intel
Compatibility: "1151, 1150, 1155, 1156, 775"
TDP: Up to 85 Watts
Installation: Push Pins
Colour: Black & White
Material: Plastic & Aluminium
Weight: 428 g
Fan Dimensions: 92 mm
Cooler Dimensions: 113 x 105 x 83 mm
Fan Controller: PWM
Rotation Speed: "500 - 2,000 RPM (Controlled by PWM)"
Fan Bearing: Fluid Dynamic Bearing
Air Flow: 36.7 CFM / 62.2 m3/h
#Hide#775 Socket: Supports Socket 775
Noise level: "0.4 Sone @ 2,000 RPM"
Power: 0.16 A / +12 V DC
Additional Features: See Overview
Package Type: Retail
Package Weight: 0.5100 kg
Warranty: 6 Years
#Hide#115x Sockets: Supports Sockets 115x
No customer reviews for the moment.