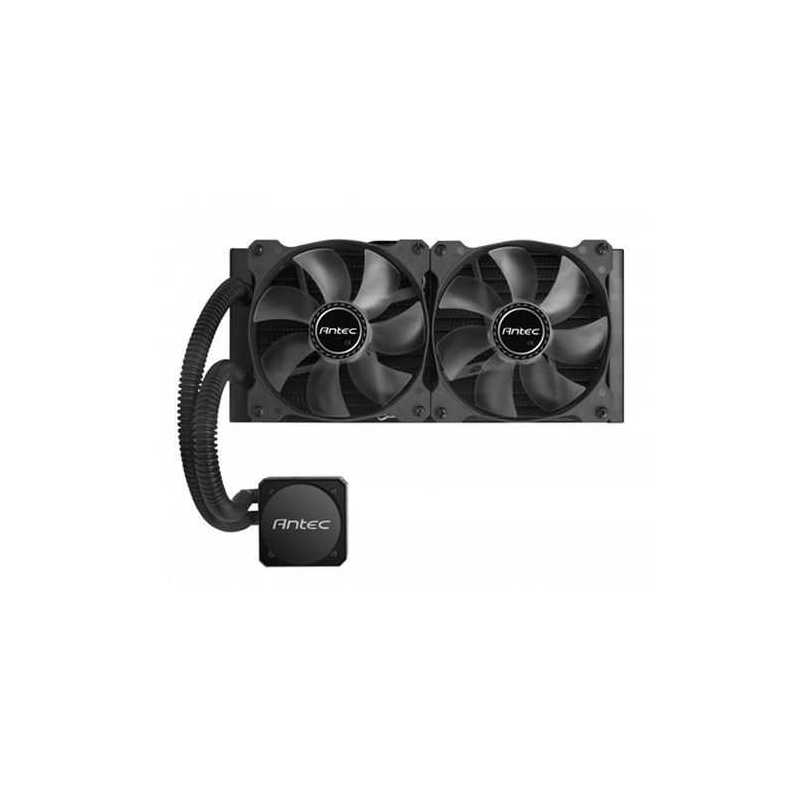  
Antec H1200 PRO Liquid CPU Cooler, 240mm Radiator, 12cm Blue LED Fans, High Performance Pump

All in One CPU Liquid Cooler
High-Performance Pump with LED Status Indicator. The integrated Status LED lights up during operation.
7-Blade PWM 12cm Fans with Blue LEDs, Rifle Bearing keeps it whisper-quiet, while filling your rig with blue light.
High-Performance 240mm Radiator. A complex structure of 0.28 mm thick heat fins with 1.3 mm empty space in between each of them maximize the heat dissipation.
Maximum Heat Fin Surface Area: 20 mm deep heat fin array increases the surface area for a maximum heat dissipation.
High-Quality FEP Tubes: With minimal moisture absorption and high thermal & kinetic tolerances for a prolonged life.
he Kühler H1200 Pro all-in-one liquid CPU cooler delivers high cooling performance in an easy-to-install package. To achieve the best results when used with overclocked processors, the H1200 Pro is equipped with a large copper plate that efficiently transfers heat from your Intel or AMD processor to the 240 mm radiator's ultra-fine heat fins, helping to effectively dissipate heat. The 7-blade PWM fan with Blue LEDS cool the liquid rapidly and quietly, and the three-phase liquid pump engine operates for maximum pump speed and cooling cycles. Backed by a five-year warranty, the H1200 pro balances value, quality, and reliability like none other. If you want efficiency, high performance and great build quality to meet the demands of your gaming system, look no further than the H1200 Pro.
Description
Specification
Type: Liquid CPU Cooler
AMD/Intel: Combo
Compatibility: "Intel LGA: 1150, 1151, 1155, 1156, 1366, 2011

AMD: AM2, AM3, AM3+, FM1, FM2"
Installation: SATA Connector
#Hide#LED Lighting: Yes
Colour: Black with 2 x blue LED 7-blade PWM fan
Material: Graphite Pump Bearing
Ceramic Fan Bearing
Large Copper Plate
Fan Dimensions: 120 x 25 mm (x 2)
Dimensions: Radiator: 271 x 120 x 53 mm
Cold Plate Height: 35mm
Tube Lengths: 315 mm
Fan Controller: PWM
Rotation Speed: 600 - 2400 RPM
Fan Bearing: Rifle Fan Bearing
Air Flow: 57.78CFM-73.3CFM (max)
Noise level: 16 - 35 dBA
Power: SATA-Powered
Additional Features: 20mm Deep Heat Fin Array
High-Quality FEP Tubes
Ultra-thin Micro Heat Channels
3-Phase Liquid Pump Engine
Package Type: Retail
Package Weight: 1.8200 kg
Warranty: 5 Years
#Hide#115x Sockets: Supports Sockets 115x
#Hide#2011(-3) Socket: Supports Socket 2011(-3)
#Hide#1366 Socket: Supports Socket 1366
#Hide# AM3(+) Socket: Supports Socket AM3(+)
#Hide# AM2(+) Socket: Supports Socket AM2(+)
#Hide# FM2(+) Socket: Supports Socket FM2(+)
#Hide#FM1 Socket: Supports Socket FM1
No customer reviews for the moment.