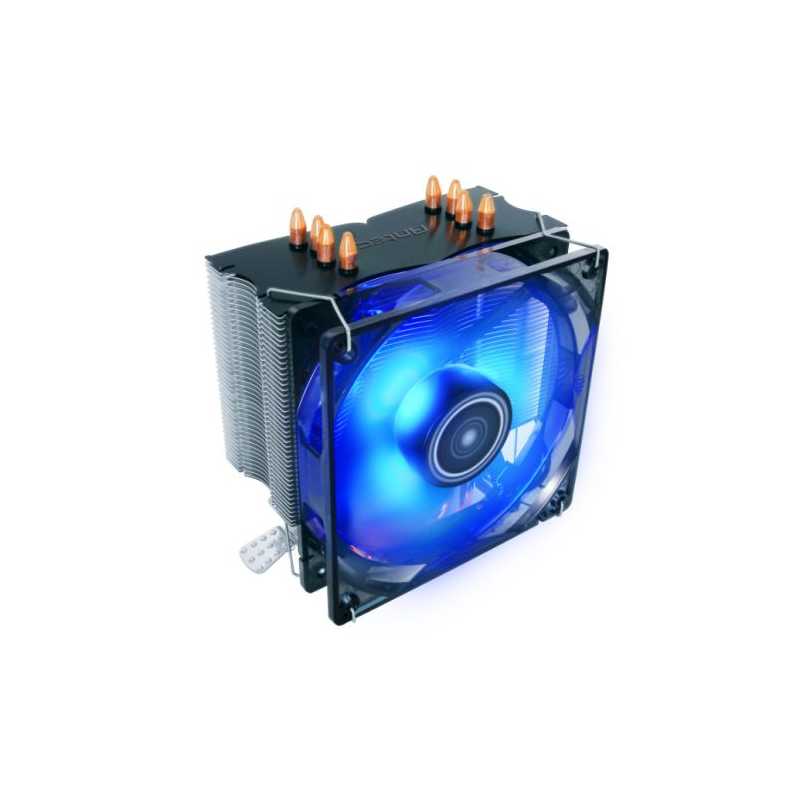  
Antec C400 Heatsink & Fan, All Intel & AMD Sockets, Whisper-quiet 12cm LED PWM Fan, Rifle Bearing

Combat heat with Antec's C400 CPU Cooler. Designed for leading Intel and AMD processors, the C400 CPU Cooler supports Intel® Core™ i7 Extreme, and AMD™ Sempron, among others. The 8 mm thick copper coldplate and nickel-plated aluminum fins with four embedded heatpipes achieve maximum heat transference as well as lightweight durability. And with the stealthily quiet blue LED PWM (pulse width modulation) fan, the C400 CPU Cooler is the perfect tool to combat heat when overclocking your processor.
High Static Pressure LED Fan
Quiet, 120 mm LED PWM fan with 77 CFM of airflow illuminates your rig with blue light
Straight Touch Technology
The 8mm thick copper coldplate and four copper heatpipes with Straight Touch technology quickly transfer heat away from your CPU
Unique Heatsink Design
Two-tiered fin structure dissipates heat efficiently, while aluminum oxide coating prevents oxidation
Broad Socket Compatibility
Compatibility with the newest Intel and AMD platforms, and the push-pin mounting system and included gold thermal paste make for a fast, simple installation
Description
Specification
Type: Heatsink and Fan
AMD/Intel: Combo
Compatibility: Intel: LGA 2011 V3/ LGA1366/ LGA1156/ LGA1155/ LGA1151/LGA1150/ LGA775

AMD: FM2+/ FM2 / FM1 / AM4 / AM3+/ AM3 / AM2+/ AM2 / APU A10/ A8/ A6/ A4
Fan Connector(s): 4-pin
Installation: Push-pin
Colour: Black with a blue LED PWM fan
Material: 8mm thick copper coldplate and nickel-plated aluminum fins
Aluminum oxide coating on the top fin
Weight: 830 g
Fan Dimensions: 120 x 120 x 25 mm
Dimensions: 155 x 125 x 76 mm
Fan Controller: PWM
Rotation Speed: 800~1900 +/- 10% RPM
Fan Bearing: Rifle Bearing
Air Flow: 77 CFM
#Hide#775 Socket: Supports Socket 775
Noise level: 20.3~34.5 dbA
Additional Features: See Overview
Package Type: Retail
Package Weight: 0.8800 kg
Warranty: 2 Years
#Hide#115x Sockets: Supports Sockets 115x
#Hide#2011(-3) Socket: Supports Socket 2011(-3)
#Hide#1366 Socket: Supports Socket 1366
#Hide# AM4 Socket: Supports Socket AM4
#Hide# AM3(+) Socket: Supports Socket AM3(+)
#Hide# AM2(+) Socket: Supports Socket AM2(+)
#Hide# FM2(+) Socket: Supports Socket FM2(+)
#Hide#FM1 Socket: Supports Socket FM1
No customer reviews for the moment.