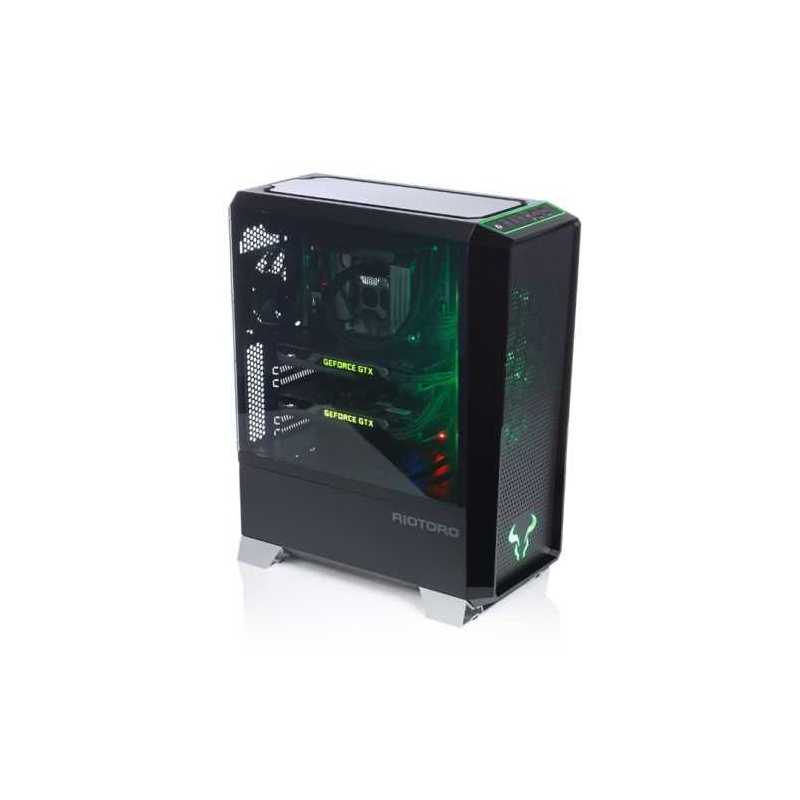  
Riotoro CR1280 PRISM RGB Gaming Case with Window, E-ATX, No PSU, 2 x 12cm RGB Fans, 256-Colour RGB Controller



Full-Color, Full-Performance, Full-Tower
Full Color RGB lighting easily customized from the top panel
Unparalleled cooling performance with top panel fan speed control 
Generous expansion room for building either a professional or gaming PC
Large tinted side window showcases internal components
Tool-free design and cable management makes building your system quick and easy
Easily accessible dust filters to help keep the computer clean
The RIOTORO Prism CR1280 Full-Tower was designed from the ground-up to deliver unparalleled cooling performance, quiet operation, and complete lighting customization while providing an elegant but aggressive design that compliments any room. The CR1280 Prism top panel provides the ability to select from any of 256 colors and to control fan speeds. 
Full-Colour, Full Performance, Full Tower
The RIOTORO Prism CR1280 was designed from the ground-up to deliver unparalleled cooling performance, quiet operation, and customizable RGB lighting.
Dual Chambers
The CR1280 Prism has separate compartments for the motherboard, power supply and drives to help direct airflow over critical components and isolate sensitive drive storage.
Direct Airflow
The included 120mm fans directs airflow over the hottest components the graphics cards, CPU, and motherboard power circuitry.
Ultra Cool Flexibility
Incredible number of cooling options
Builder-Friendly Cable Management
The spacious interior incorporates modern builder-friendly features easy installation and customization
The integrated cable management in the CR1280 Prism is carefully designed to provide optimal routing paths and tie down points allowing users to easily secure and conceal loose cables. Tool-less drive mounts make installing hard drives and SSDs a snap.
Easy Maintenance
Top Magnetic Washable Dust Filter
Helps keeping your computer clean and dust free.
 
Top Acrylic Panel
Designed for improved heat dissipation and aesthetics.
Dimensions & Weight
Ultra compact design, it is one of the smallest cases supporting Full ATX motherboards.
Description
Specification
Form Factor: E-ATX
#Hide#Small Form Factor: No
#Hide#Power Supply: No
Power Supply Wattage: No PSU
Motherboard Support: "E-ATX. ATX, Micro ATX, Mini Itx"
Front Panel Connectors: 2 x USB 3.0
1 x Headphone
1 x Mic
Drive Bays: 4 x 3.5"" (internal drive cages)
4 x 2.5"" (Rear of motherboard tray)
Expansion Slots: 8 Expansion Slots
Cooling System: Included:
2 x front 120mm RGB LED fans
1 x rear 120mm exhaust fan

Optional:
3 x top 120mm fans
1 x bottom 120mm fan
.:
Water Cooling options:
Top: 1 x 120mm radiator
Front 1 x 120mm radiator
Colour: Black
Material: "Steel, ABS Plastic"
Compatability: Max GX Card length: 400mm

Max CPU Cooler height: 180mm

PSU: 220 x 150 x 85 mm
Weight/Dimensions: 8.1kg
478 x 250 x 578 mm
Additional Features: See Overview
Package Weight: 10.4500 kg
Warranty: 2 Years
No customer reviews for the moment.