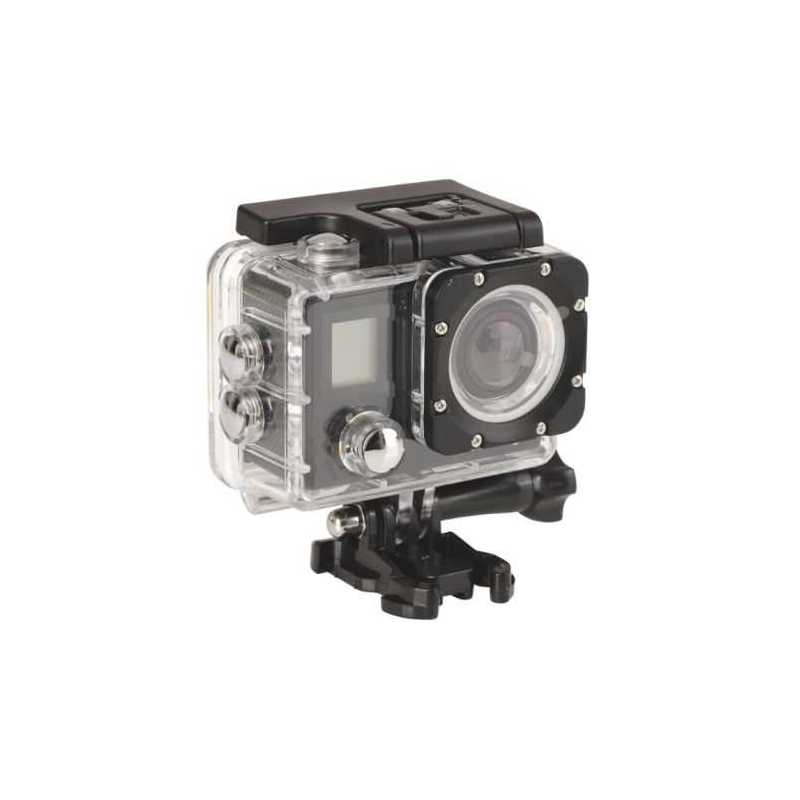  
Sandberg (430-00) 4K 170 Degree Action Camera, Waterproof Case, Wi-Fi, Mounting Kit, LCD Screen, 5 Year Warranty
Lens: 170 HD° Wide-angle lens
Image sensor: 16 Mega Pixels CMOS
Image resolution: 16 / 12 / 10 / 8 / 5 / 2 Mega pixels
Video resolution: 4K 30 fps / 2.7K 30 fps / 1920*1080 60 fps / 1280*720 12 fps / 90 fps
Video compression format: HD.264
Video file format: MP4
Image format: JPG
2.0" LCD screen
Memory card supported: Micro SD up to 64 GB
Connectors: 1 x MicroUSB for charge, 1 x Micro HDMI for AV out
Battery capacity: 900 mAh
Battery life: Approx. 90 minutes depending on resolution
Built-in Microphone
Sandberg ActionCam 4K is a really clever mini-camera that makes it easy to record your sporting achievements. The pack includes a solid, watertight plastic housing you can attach to your bike, helmet, skis or anything else. Records in top quality, smooth 4K UHD resolution on a memory card (not included) or can be accessed via Wi-Fi from a smartphone or tablet. The entire back consists of an LCD screen for you to check your recordings, and the front includes a useful status screen. Large accessory pack included, enabling you to mount the camera on almost anything.
Description
Specification
Resolution(s): Image: 16 / 12 / 10 / 8 / 5 / 2 Mega pixels

Video: 4K 30 fps / 2.7K 30 fps / 1920*1080 60 fps / 1280*720 12 fps / 90 fps
Supported Formats: Video compression format: HD.264
Video file format: MP4
Image format: JPG
Connectivity: 1 x MicroUSB for charge
1 x Micro HDMI for AV out
Micro SD slot: up to 64 GB
Display: 2.0"""" LCD screen
Microphone: Built-in Microphone:
Frequency range: 100 Hz – 16 kHz
Impedance: 2200 ohms
Sensitivity: -42 dB
Directivity: Omni
Battery: Capacity: 900 mAh
Battery life: Approx. 90 minutes
Features: See Overview
Accessories: Sandberg ActionCam 4K
Waterproof case
Mounting bracket
Mounting clip
Bike bracket
Multifunction clip
Camera clip
Helmet mount
Bracket adapter
Cleaning cloth
Set of 3M stickers
MicroUSB charging cable 30 cm
Car charger 12/24V
User guide
Package Type: Retail
Package Weight: 0.6000 kg
Warranty: 5 Years
No customer reviews for the moment.