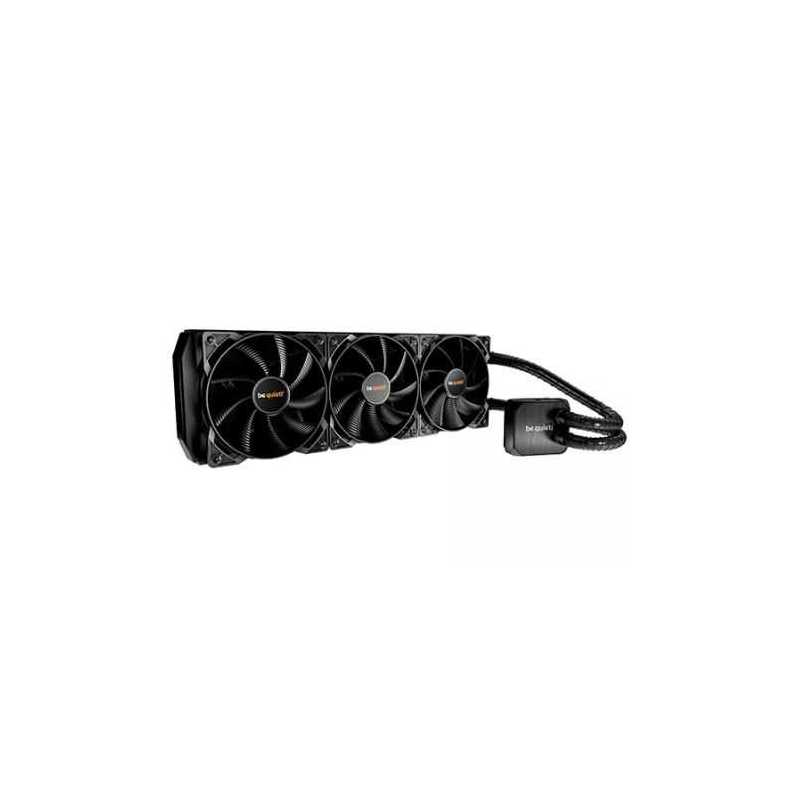  
Be Quiet! Silent Loop 360mm Liquid CPU Cooler, Full Copper, 3 x 12cm Pure Wings 2 PWM Fans
Superior Cooling and Silence
With Silent Loop be quiet! brings whisper-silent technology to the world of All-in-One watercooling, making liquid cooling an attractive option for those who want to heavily overclock CPUs for maximum processing performance or cool high-power PC systems.
All-in-One water cooling provides everything you need in one package
Innovative decoupled reverse-flow pump assures excellent cooling efficiency with whisper-quiet operation
Three Pure Wings 2 120mm PWM fans feature airflow-optimized fan blades and variable speed operation
Full copper radiator maximizes heat transfer for peak cooling performance
Refill port and flexible bend-protection tubes extend the product's life span and promote easy handling
Compatible with Intel® and AMDTM sockets, and sized to permit full use of RAM slots
Product conception, design and quality control in Germany
Applications
Demanding PC systems
Heavily overclocked systems
High-resolution gaming and multimedia systems
Any PC that requires superior quietness, such as audio editing, studio work, or simply a HTPC
Ultra-quiet Operation
• Innovative decoupled reverse-flow pump provides low-noise operation with less vibration
• Thanks to the technique "reverse-flow" the pump draws the liquid coolant from an outer cavity of the pump housing across the base plate and discharges the warmed liquid coolant through a second level inside
• Three Pure Wings 2 120mm PWM fans include an array of optimizations for quiet airflow
    - unique airflow-optimized fan blade design reduces noise-generating fan turbulence
    - high-quality rifle bearing technology contributes to a long lifespan of up to 80,000 hours
    - PWM speed control function allows for optimum balance between quiet operations and efficient cooling




Superior Cooling Performance
• Full copper radiator maximizes heat transfer for peak cooling performance
• Nickel-plated coldplate allows the use of heat-conducting metallic paste, thus improving heat transfer and overall cooling efficiency
• Extremely high TDP rating supports heavily overclocked CPUs and demanding systems
• Increased air pressure thanks to a highly efficient blade design of the three 120mm Pure Wings 2 PWM fans, making these fans the perfect partners to work with the radiator




Maximum Compatibility and Convenience
• Flexible bend- and pinch-protected tubes take the worry out of routing supply lines
• Small and thoughtful heat exchanger design supports full use of RAM slots
• Refill port extends the product's useful lifespan and promotes silent operation
• Compatible with Intel® and AMDTM sockets
• Convenient radiator mounting is compatible to most case designs




Outstanding Service and Support
• 3-year manufacturer's warranty
• Quick support is available via our international hotline, Mondays to Fridays from 9:00am to 5:30pm CET: 
+49 (0) 40-736 76 86 - 98
Description
Specification
Type: Liquid CPU Cooler
AMD/Intel: Combo
Compatibility: Intel: LGA 775 / 1150 / 1151 / 1155 / 1156 / 1366 / 2011(-3) Square ILM / 2066

AMD: AM2(+) / AM3(+) / FM1 / FM2(+)
TDP: 450W
Fan Connector(s): 4-pin
#Hide#LED Lighting: No
Colour: Black
Material: Radiator: copper / black spray painted
Base material: copper / dark nickel plated
CPU contact surface: CNC machined
Surface treatment: mirror polished
Weight: 1.7 kg
Fan Dimensions: 120 x 120 x 25 mm
Dimensions: 397 x 124 x 55 mm
Fan Controller: PWM
Rotation Speed: "2,000 rpm"
Fan Bearing: Rifle bearing
Air Flow: @ 12V (cfm / m3/h): 65.51 / 111.3
#Hide#775 Socket: Supports Socket 775
Noise level: 25 % / 50% /100% rpm : 16.1 / 23.8 / 36.9 dB(A)
Power: Rated voltage: 12V
Input current: 0.3A
Input power: 3.6W
Additional Features: See Overview
MTBF: "80,000 hours "
Package Type: Retail
Package Weight: 2.9000 kg
Warranty: 3 Years
#Hide#115x Sockets: Supports Sockets 115x
#Hide#2066 Socket: Supports Socket 2066
#Hide#2011(-3) Socket: Supports Socket 2011(-3)
#Hide#1366 Socket: Supports Socket 1366
#Hide# AM3(+) Socket: Supports Socket AM3(+)
#Hide# AM2(+) Socket: Supports Socket AM2(+)
#Hide# FM2(+) Socket: Supports Socket FM2(+)
#Hide#FM1 Socket: Supports Socket FM1
No customer reviews for the moment.