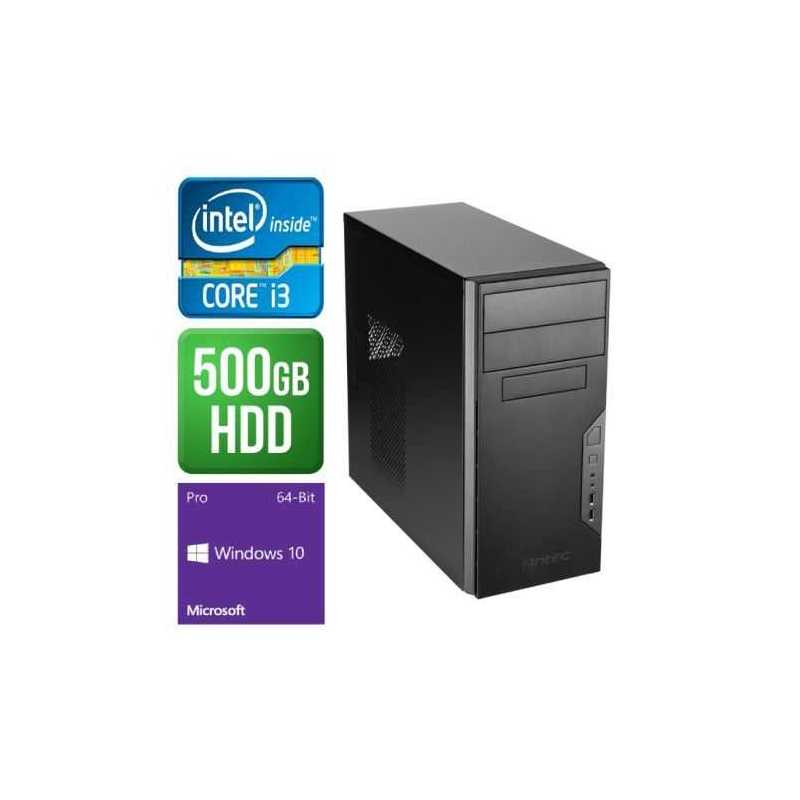  
Spire Tower PC, Antec VSK3000B, i3-6100, 4GB DDR4, 500GB, Antec 450W, DVDRW, KB & Mouse, Windows 10 Pro

Spire's pre-built PC's are built from only the finest, top brand components in order to offer rock solid performance with maximum reliability.  With over 20 years of experience building machines, we can guarantee that each system is built and tested to the highest standard. 
All Spire systems come with a 3 year warranty with a team of experienced technicians available to offer the best in support.


If the specifications of our pre-built PC's do not meet your exact requirements, please email pcsales@spire.co.uk with exactly what you need and we will quote you for a bespoke PC build where possible.
Description
Specification
Chassis: Antec Micro ATX VSK3000B
Tower / Small Form Factor: Tower
Processor: Intel Core i3-6100 (3.7 GHz)
Chipset: Intel H110
Graphics: Intel HD Graphics
#Hide#Processor: Intel i3
Memory: 4GB
Memory Details: "DDR4, 2133MHz
1 x 4GB
Max 32GB
2 slots (1 free)"
Hard Drive: 500GB
Optical Drive: DVDRW
Operating System: Windows 10 Professional 64-bit
Front I/O: 1 x USB 3.0
1 x USB 2.0
1 x HD Audio
1 x Microphone
Back I/O: 1 x PS/2 keyboard
1 x PS/2 mouse
2 x USB 3.0 ports
4 x USB 2.0 ports
1 x HDMI
1 x DVI
1 x D-Sub
1 x LAN (RJ-45)
3 x Audio jacks
LAN: GB LAN
Wireless: -
Bluetooth: -
Sound: Realtek ALC887 8-channel High Definition Audio CODEC
Expansion: 1 x DDR4 DIMM
3 x PCIe
3 x SATA III
1 x 6-pin PCIe connector on PSU
Power Unit: Antec 450W VP450P
Keyboard and Mouse: Yes
Dimensions: 173 x 365 x 368 mm (W x H x D)
Package Weight: 8.7500 kg
Package Type: Retail
Warranty: "3 Years (1st year parts - collect and return (UK mainland only), 2nd & 3rd years labour only)"
Data sheet
Processor

Intel Core i3-6100 (3.7GHz)
Intel i3

Expansion

1 x DDR4 DIMM, 3 x PCIe, 3 x SATA III, 1 x 6-pin PCIe connector on PSU

Memory

4GB
4GB DDR4, 2133MHz

Optical Drive

DVD/RW

Warranty

"3 Years (1st year parts - collect and return (UK mainland only), 2nd & 3rd years labour only)"

Package Type

Retail

Package Weight

8.7500 kg

Additional Features

See Overview

Dimensions

173 x 365 x 368 mm (W x H x D)

Operating System

Windows 10 Professional 64-bit

Card Reader

-

Chassis

Antec Micro ATX VSK3000B

Memory Configuration

1 x 4GB

Hard Drive

500GB

SSD Drive

None

Motherboard

Asus H110M-R/C/SI

Power Supply

Antec VP450P 450W

Networking

GB LAN

Interfaces (front)

1 x USB 3.0, 1 x USB 2.0, 1 x HD Audio, 1 x Microphone

Interfaces (back)

1 x PS/2 keyboard, 1 x PS/2 mouse, 2 x USB 3.0 ports, 4 x USB 2.0 ports, 1 x HDMI, 1 x DVI, 1 x D-Sub, 1 x LAN (RJ-45), 3 x Audio jacks

Sound

Realtek ALC887 8-channel High Definition Audio CODEC

Keyboard and Mouse

Yes

Graphics

Intel HD Graphics